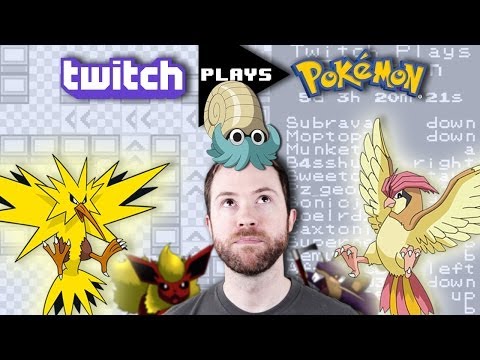 Despite the chaos of having thousands of people try to control a single Pokémon game, one thing was was certain about the end of the first run of 'Twitch Plays Pokémon' — it was damned inspirational and thought-provoking. Lots of folks were sceptical that finishing the game was even possible.
---
I don't remember any other Nintendo games starting with the above message, but, hey, sure, Nintendo. Why not? I've rated a level or two in Assassin's Creed. I've agreed to let my crash bugs be sent back to Microsoft. I just never thought that you, Nintendo, would need to see my gameplay data to make better games. World changed!
---
When you have thousands of people controlling the same game, there are bound to be a ton of memorable hijinks. And so now that 'Twitch Plays Pokémon' beat the first generation of Pokémon games, it seems like a good time to reminisce on some of the stream's high points, no?
---
And I sort of agree with him.
In a recent interview with US Gamer, Kensuke Tanabe, a key producer behind many of Retro Studios recent Metroid Prime titles, revealed that he "detests" tutorials, and tries to make sure that none of the games he works on feature any.
---
Nintendo is having a truly difficult year. Things are tough! Yet, Japanese Prime Minister Shinzo Abe thinks the country can learn from Nintendo.
---
---
I love Tetris. It's one of the rare games I have played off and on for the past 20 years. But, I'd be lying if I said I didn't think it could use a little extra something to mix it up from time to time. And sure enough, mixing it with fellow puzzle classic Puyo Puyo (Puyo Pop in the West) makes for an exceedingly fun puzzler.
---