There were three games that had a chance at being my GOTY. Dark Souls 2 (of course), Trials Fusion, and The Witcher 3. With the Witcher delayed, and Trials being a tad disappointing for me, the ol' Dark Trolls has it pretty much wrapped up. But it ain't perfect — and with the second of three DLC packs released today, my fingers are crossed the extra content will plug some of the holes in the lore.
---
What a dirty trick to play, Bandai Namco. Introducing a never-before-seen character for Dragon Ball Xenoverse, leaving fans to wildly speculate for months before revealing it as the first Dragon Ball game that allows players to inject their own creations into the series' greatest battles. So sneaky. So good.
---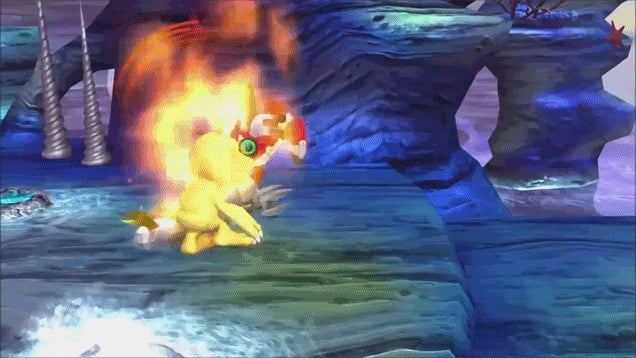 Despite its loyal fanbase, Digimon has long played second fiddle to Pokémon. Tired of having all their digital monsters left out of the party that is Super Smash Bros. in favour of the company's more recognisable characters like Pac-Man, Bandai Namco announced today that it's making its own multiplayer arena brawler.
---
The next Smash Bros., Super Smash Bros. for Wii U and 3DS, will be featuring newcomers like Mega Man, the Wii-fit exercise instructor, and the latest announcement from E3, Pac-Man. But, much like the newly announced Mii Warrior, this wasn't the first opportunity for him to join the Smash Bros. cast.
---
Coming off their recent movie release, THE IDOLM@STER girls are back with a new game that looks like it's learned from past mistakes. The latest addition to Bandai Namco's ever popular IDOLM@STER franchise, THE IDOLM@STER ONE FOR ALL came out on the PS3 last week and so I decided to see what it had to offer. As always, the game places the player as a new producer at the 765 Production agency where they must lead the agency's 13 young girls to be super idols.
---
Those who remember when the original Dark Souls finally came to PC, will also remember the famous DSfix mod, which somehow fixed the game's most heinous issues within a few hours of the release. The modder responsible, Durante, has just beaten his own record — this time having everything ready before the game has even come out.
---
For any gamer who got into the Dark Souls: Prepare To Die edition, it was a bittersweet victory. After an online petition convinced From Software to bring the game to PC, fans of the superior platform rejoiced — only to later find out it would be tainted by Games For Windows Live, as well as suffering from a severely stunted resolution and framerate lock. That won't be the case for Dark Souls 2, out on PC in a week.
---
Aussie Youtuber VaatiVidya is one of the best & biggest Dark Souls commentators, gaining popularity for his lore-focused "Prepare to Cry" series. He's had early access to From Software's soul-crushing sequel, and has been answering questions for people over on the 'Tube. It's one of the rare sources going beyond the basics of "You can be invaded while hollow now".
---