Sure, you could opt to use an aircraft's weapons when in an aircraft. Or, you can use the altitude to your advantage as a sniper, as sSantzuu does here in Battlefield 3. One of these options is more impressive, if not more dangerous than the other!
---
This isn't a Battlefield moment — it's obvious that most of this is staged by YouTube user Lupey19. And yet that doesn't matter at all. That's just how awesome this video is; it practically looks like an action movie once it gets going.
---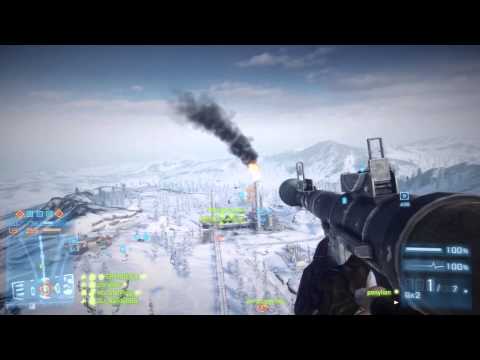 ---
---
Cutting to the chase, you throw a bunch of C4 on it, obviously.
---
You know what every first-person shooter needs? I mean, besides guns? Dirt bikes. And every other high-speed vehicle imaginable. Because if shooting a helicopter down with an RPG is fun, it's even more fun when doing so while also riding a dirt bike.
---
First we found a in Battlefield 3's End Game DLC. Now we have something a bit more… prehistoric.
---
1) I sure wish that a game like Battlefield 3 or any other online shooter could be as fun for neophytes like me as it appears in this trailer for the final expansion to Battlefield 3, but I'm sure I'd just die a lot of I tried to hope in and play.
---
Hungry for some nostalgic action? The newest Battlefield 3 DLC, End Game, has the answer. The game's fifth expansion sees the return of two classic game modes — Capture the Flag and Air Superiority — and also introduces the dirt bike for some high-speed, bazooka-wielding truck-shooting action.
---
Quick time events: Interactive cinematic glue or lazy game design? Whether you call them "quick time" or "quick timer" events, everyone has an opinion about their place in contemporary gaming. If you're on the fence, this video from "TheHowAbsurd" should put you firmly in the "hate it" camp. Warning: The clip contains an insane amount of spoilers — the specific games can be found below.
---