If you camped in the top floors of the Nuketown houses long enough that you wanted to change its hideous government-issue curtains and carpet, then this video is for you. An Illinois paintball field and (paintball) arms supplier Tippmann Sport recreated the map in real life this past weekend.
---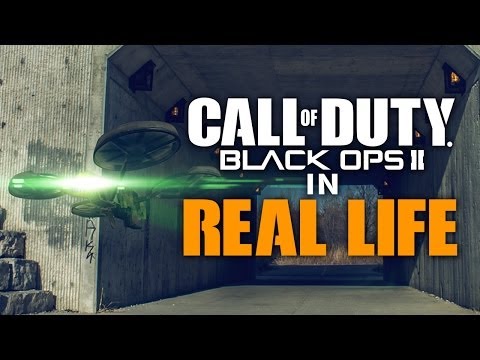 It can be easy to become desensitised to Call of Duty's brand of realistic-yet-cartoonish violence. As motion-captured video game dudes blow each other away over and over again, whatever I'd normally feel at watching that kind of carnage melts away. I see the game for what it is, and it stops having an impact.
---
---
This could only come from the great laboratory of death known as free-for-all in a multiplayer shooter. Given enough matches, enough combatants and enough button-spamming, you'll inevitably discover that a bouncing betty to the face is a one-hit kill Call of Duty: Black Ops II — without detonating.
---
Call of Duty games have a distinctive aural imprint. The whizzing bullets, grunting allies, ringing impacts and of course, the screams of the many men you kill. But what if the game were stripped down to only that last — what if the only things you heard in Call of Duty: Black Ops II were the combatants' voices?
---
I haven't played enough of Black Ops II to render a real verdict on how I feel about as a game, I can say for sure that I really enjoy the soundtrack. It's a cut up from past games in the series, an exciting, diverse blend of whirling orchestral parts, ethnic instruments and atmospheric electronics.
---
"The soldier above all others prays for peace, for it is the soldier who must suffer and bear the deepest wounds and scars of war." It was General Douglas MacArthur who said that, and his words are as true now as they were in his time.
---
Boy, those young men sure do love video games, don't they? And wouldn't you know it, two of the biggest games of the year, Halo 4 and Black Ops II, just came out! Surely there is some pithy joke to be made here, some quick gibe about how men will be playing those games and therefore neglecting their girlfriends?
---
---