Video: Debuting during the Firaxis Megapanel at PAX Prime this weekend, the "Master Control" gameplay trailer for Sid Meier's Civilisation: Beyond Earth teaches us about the Purity Affinity, Virtues, the Orbital Layer and how October 24 can't come soon enough.
---
From what we've seen so far, Mortal Kombat X is shaping up to be the best, if not the most violent, instalment in the 22-year old beat-em-up series. Another gameplay clip has popped up online and while it's a bit too much for my tastes, I certainly won't stand in the way of anyone keen to literally dispense some brain-snapping bargains on their virtual foes. NSFW purely for crazy amounts of blood, gore and blood-gore.
---
On Thursday, Arrowhead announced that its upcoming modern take on Gauntlet will be delayed until next month, to allow for "fine-tuning" of the game's multiplayer. Considering Gauntlet is all about four-player co-op, you can understand why the Magicka studio would want to spend a bit more time getting it right.
---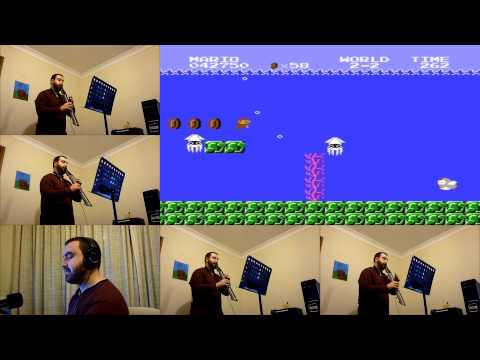 Peter Anthony Smith is an Australian musician. In his spare time he messes around with an EWI, an Electronic Wind Instrument, and records some terrifyingly accurate (and gorgeous) video game covers.
---
Graphite Lab's first crack at a Kickstarter for its side-scrolling, co-op shooter Hive Jump didn't go so well, amassing just $US6157 of its lofty $US75,000 goal. Now, six months later, the developer is having another go, this time with external funding, updated visuals and a thumbs-up from Valve to sell the game on Steam. Suffice it to say, it's already doing a lot better the second time round.
---
If you create a successful game, you have to expect others will borrow mechanics and themes for their own creations. That's not so bad — it's nice to have an influence on the medium — but what is troublesome is when your game is outright cloned, with little to no originality added. Tom Francis, the man behind indie-hit Gunpoint, was recently inspired to record himself playing a Gunpoint "rip-off" called Ronin. The thing is, he not only enjoyed it, but didn't think it deserved its title as a flagrant copy.
---
Though Gnar was revealed last month, Riot took the time today to visually explain what the prehistoric champion is all about. Watching this video, you'll get a good sense of Gnar's moves, his combos and how Gnar should be used.
---