Loading page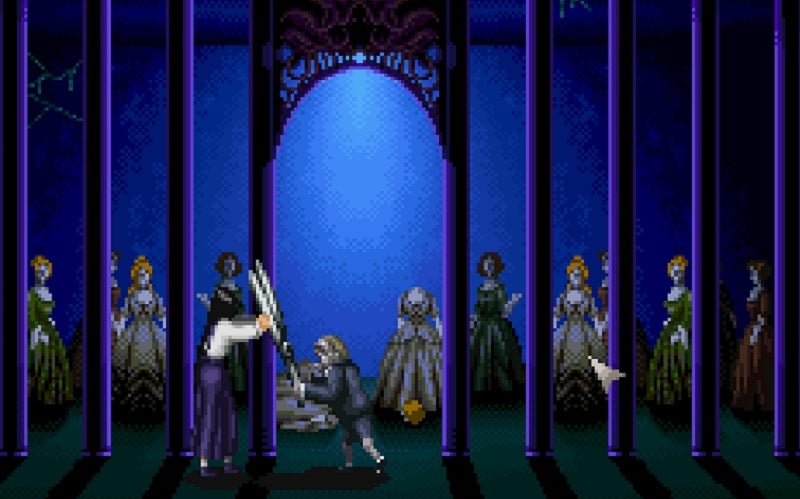 ---
Not all horror video games are created equally. Some focus on creating an atmosphere of isolation and vulnerability. Others rely on shock to frighten the player, while making sure there's enough firepower laying around to shoot horror right in the face. Confused? Perhaps this handy graphic will help.
---
A Clock Tower movie is coming. Not the most obvious choice for a big screen adaptation, but there you go. Want to take a look at some dark, foreboding posters for the movie?
---
Mila Jovovich sure loves those Hollywood game adaptations. She's already cut her teeth on the big screen version of Resident Evil, and now she's just signed on to star as character Alyssa Barron in the long-in-development-hell Clock Tower film. The movie is based on the Konami suspense titles of the same name. Martin Weisz (The Hills Have Eyes II) will take the reigns as director and scribe Eric Poppen penned the script. Hope it's good!
---
Milla Jovovich just can't get away from scary Capcom video game movies. Having played Alice in all three live-action Resident Evil movies, Milla is now taking on the role of Alyssa Hale, the 17-year-old girl suffering from multiple personality disorder in the movie adaptation of Clock Tower II: The Struggle Within (Clock Tower Ghost Head in Japan). She'll be joining actresses Brittany Snow and Alyssa Jayne Hale on the film, with shooting kicking off next month.
---
Further proof that a Clock Tower movie is really happening and not some sort of strange fever dream, Senator Entertainment has found their helpless lead character in the form of Brittany Snow. Most recently appearing in the remake of horror-classic Prom Night, Snow has also had a recurring role on Nip/Tuck as Ariel Alderman, played Meg Pryor in American Dreams, and also portrayed Amber Von Tussle in last year's remake of Hairspray.
None of those are important, however. The role that most gamers will recognise her by is the English voice of Naminé from Kingdom Hearts II, the mysterious young blonde girl who shares a strange connection with Kairi and Sora. See? The movie is gaining video game clout already. Brittany should do a fine job of spending two hours or so running from room to room and hiding from the nasty men with giant scissors.
Clock Tower Strikes Brittany Snow [CanMag]
---
Last we heard about the Clock Tower movie was way back in 2006. Chilean horror filmmaker Jorge Olguin was supposed to helm the pic and When A Stranger Calls scribe Jason Wade Wall was taking writing duties. Well, all that's been scrapped it seems. Hollywood trade Variety is reporting that Senator Entertainment is set to produce the Capcom game adaptation for Weinstein Co. The script is being written by Eric Poppen (Borderland) and will be produced by Marco Weber and Martin Weisz (The Hills Have Eyes 2). Capcom's President Haruhiro Tsujimoto is set executive produce. Shooting starts this July. Senator Adapting Clock Tower [Variety Thanks, jmh!]
---
Loading page