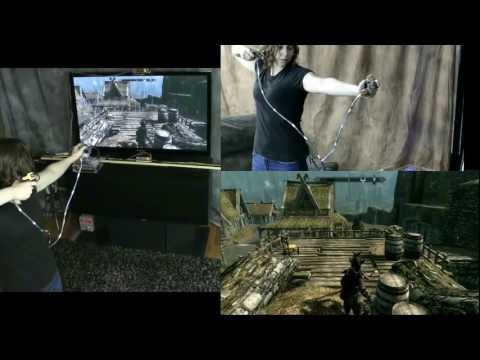 Though not from Sony. Despite reportedly toying with the idea back in 2008, the platform holder has to date never followed through with the idea of a controller that can break apart into two pieces.
---
Remember that custom Kotaku controller? The one with bullets for buttons? It's actual a more common modification than you think, replacing plastic inputs with metal ones, but you can go a little further, if you feel like it, by replacing the D-pad with the end of a 12-gauge shotgun shell.
---
OK, so you'll also need some woven conductive cloth, a spool of conductive yarn and the FLORA wearable electronics platform, but the sewing is the hard part. Adafruit's Becky Stern walks us through making an emulator-ready fluffy controller pal.
---
Controllers for the next Xbox as well as prototype versions of both Microsoft's new, powerful console and the machine's new, mandatory Kinect sensor have been in the hands of game creators since last month. But that's not much of a surprise. What is a surprise is that all of that gear is covered in criss-crossing, radiating black and white stripes. The console codenamed Durango currently looks like a zebra.
---
We've seen leaked images of the PS4 controller. We've seen Sony people hold the PS4 controller in their hands. But not until our intrepid Kirk Hamilton hustled into the Sony area of the Game Developers Conference show floor today have we been able to see the PS4 controller… in the wild?
---
PC gamers tend to be quite attached to their mice and keyboards, but that doesn't mean there's not room for a controller to squeeze in. The Stinky Footboard won't steal away your precious pointer, or replace your keys with a handful of buttons, but it will give you four more buttons. And it puts them right under your feet.
---
Are current soccer games just not accurate enough to replicate your awesome real life skills? The answer to this age-old (?) question of man versus peripheral could be solved simply by strapping a bunch of motion-sensing controllers to your arms and legs. Look, Sony's even whipped up a diagram for you in its latest patent application.
---
Oh boy, don't get me started on the Nintendo 64 controller. I hated it. Hated the weird layout, hated the fact the analogue stick would always get loose. These days, Nintendo wisely offers alternatives to their "wacky" controllers in the form of Classic and Pro pads for the Wii and Wii U respectively, but we were out of luck with the N64.
---