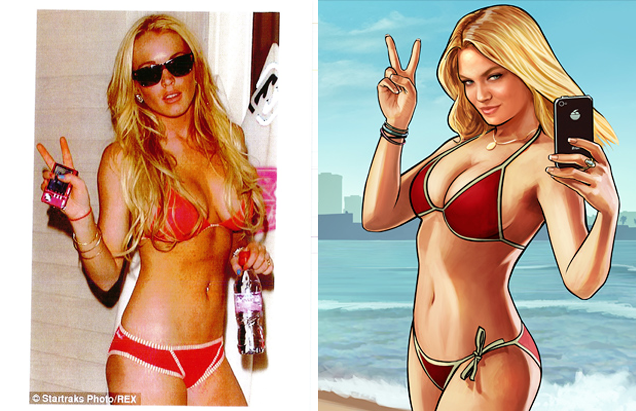 In July, professional meltdown artist Lindsay Lohan filed a lawsuit against Grand Theft Auto V developer Rockstar Games and publisher Take-Two Interactive for using her likeness in their open-world crime game.
---
Didn't Grand Theft Auto V already look pretty good on Xbox 360 and PS3? Yes. But it appears to look better — as it should — in the latest trailer for the November-dated PlayStation 4 and Xbox One release. Our own Gergo Vas made some GIFs to compare.
---
YouTuber Mario4LYF3 seems to have a different kind of gravity in GTA V to the rest of us as they put their jet through some incredible moves in this video.
---
Late last week word began to circulate that the PC version of Grand Theft Auto V was in big trouble because "Rockstar never wanted to release a PC version." This led irate fans to, among other things, hack a marketing firm's website. Rockstar, however, says our precious PC version is safe and sound.
---
Are video games societal microcosms wherein deviant behaviour flourishes and spills into "real life"? Or are they just harmless fun in which nobody really gets hurt? This endless debate usually concerns violent games; so much so that many are now inured to the discussion. But a disturbing hack involving sexual assault in Grand Theft Auto 5 (GTA5) threatens to achieve the impossible: swaying the opinion of gamers themselves.
---