Loading page
Mega64's take on Journey is the best take on Journey. Watch until the end. Totally worth it.
---
Journey is a beautiful, sometimes somber travel against wind, snow and loneliness. Your silent interactions with strangers are poetic and more meaningful than exchanged words. And now it comes with rocket-equipped death matches.
---
I was browsing Reddit casually last night and stumbled on this seemingly well-made Journey hoodie by user volpinazzurra (you can only tell so much from pictures). "It's reversible too," I excitedly proclaimed to myself and my cat. Quickly check the comments and… oh. Not for sale. Not on Etsy. Probably can't bribe volpinazzurra with cookies and money.
---
I always felt as though my Journey character would have been pretty good at the violin. And, what do you know, that seems to be the case, as demonstrated by violinist Taylor Davis in this new video tribute.
---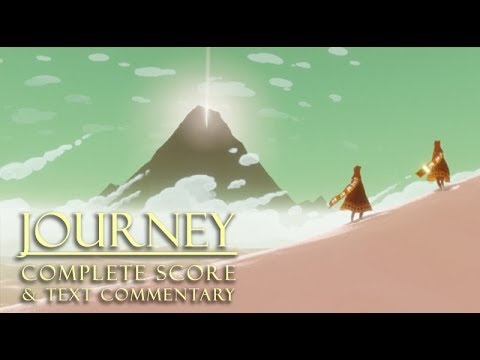 Journey wasn't just one of the best games of 2012, it also had easily one of the best soundtracks. Composer Austin Wintory assembled a remarkable collection of instruments and tonalities, the sort of holistic musical concoction we rarely get in games.
---
In the future, there may not be any more single-player games — but that doesn't mean what we seem to think it does every time some big publisher opens its big mouth and tells us that single-player games are dead. Epic, story-driven campaigns aren't going away; it's just that new forms of multiplayer are evolving in tandem with those experiences, rather than in opposition to them.
---
If you've played Journey (and if you haven't — get on that!) you'll know just how paramount Austin Wintory's subtle soundtrack was to the entire experience. Apparently the folks at the Grammy's agreed and, as a result, Journey became the first game to have a soundtrack nominated in the Best Compilation Soundtrack For Visual Media award. Sadly, Austin Wintory lost out to Trent Reznor and Atticus Ross, who won for their (admittedly awesome) work on Girl With The Dragon Tattoo, but we still love you Austin! Awesome work getting this far!
---
Last year's standout PS3 game Journey was an emotional experience for many. That was certainly the case for Sophia, a 15-year-old who wrote the above letter to one of the game's creators, Jenova Chen, about how Journey helped her cope with the loss of her father.
---
Loading page