The grand finals of the 2015 Call of Duty Championships are happening today. Which of the 32 competing teams is going to walk away with $US400,000? Head over to the Major League Gaming event site to watch live and see which 29 teams are definitely not winning.
---
" link="lightbox" size="xlarge" align="center" nocrop="true" clear="true"] Video gaming's not a sport? Don't tell that to MLG.TV — an Internet-broadcast network that'll showcase the league's major events and, yes, broadcast a studio show with highlights and news, akin to the coverage that, yes, real sports get.
---
This must be one of the funniest e-Sports stream hijacks I've seen so far. During a League of Legends event at this year's Gamescom, someone in a classic creepy horse mask continuously kept distracting viewers from the commentators. So good.
---
Over the weekend, many professional League of Legends, StarCraft II and Call of Duty players convened in Anaheim, California, to compete in Major League Gaming's Spring Championship. But one of the most riveting battles involved American pro Xpecíal's incredible, 40-minute play displaying some of the most impressive unit-control and micro-management I've seen.
---
Girls? Playing VIDEO games? YOU'D BETTER BELIEVE IT.
---
Among other Korean pros, legendary Brood War player Flash — already switched over to and having great success in StarCraft II — attended MLG Winter last weekend.
---
You press play. A homemade logo or two pop up — maybe a clan or a made-up studio. You notice the name of the player — lots of X's, maybe a 420 reference, and the rest seems incomprehensible. That's when the top 40 song begins. Then it happens: a man dies. Cause of death? Headshot, intentionally timed to connect when the bass dropped (if the song happens to be dubstep.) We're watching an earnest kill montage video of a popular shooter, likely from an MLG hopeful.
---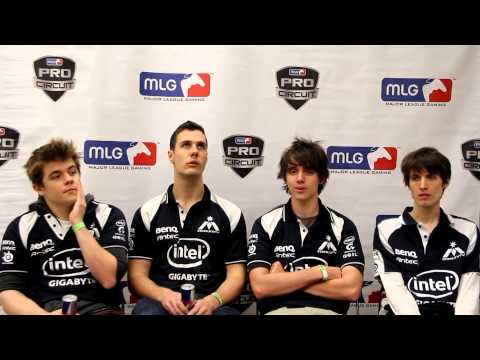 Australia's top pro Halo squad Team Immunity headed over the to world's first major Halo 4 tournament at MLG this weekend. 260 of the world's best teams attended and, despite the fact some of the top seeds had two weeks to practice the game, Team Immunity still managed to place 9th. Such an incredible result guys — very well done.
---