3D builder/magician Psychobob — you've seen his stuff before — is selling these Portal-themed drink coasters, so your companion coffee cup has somewhere to rest its weary butt.
---
Poker video games aren't usually done well. They're historically cheap, flavourless games without a lot of personality. Telltale's Poker Night 2 does not suffer from those problems, particularly when it comes to its dealer, GLaDOS.
---
Your next baking session can crack jokes like it was 2007 now that official Aperture Science cake mix has been made available. It comes with the candle, 275g of cake mix, 50g of cream powder, chocolate flakes and 80g of liquid thickener. All you need to complete the thing are some cherries and a post-apocalyptic underground science laboratory.
---
Brazilian illustrator Rayner Alencar drew this amazing picture of Portal's Chell. It will satisfy my urge to see a Dreamworks animated version of the series while I wait for Alex Zemke to finish up the other Dreamworks-looking Portal project, his animated short.
---
Nobody likes movies based on video games, with very few exceptions. That said, we're far from giving up on fan-made web shows based on video games. Case in point: this trailer for Machinima and Wayside Creations' Portal series, Aperture R&D.
---
Portal may not seem like the most romantic game ever, seeing as how it's populated with a bunch of robots and only a single human character. But even all these years later, people still haven't gotten over protagonist Chell and her doomed relationship with the heart-decorated Companion Cube.
---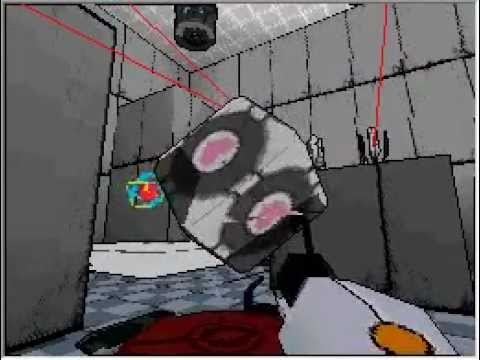 The DS still is home to a robust homebrew scene, as we see here in this Portal port that modder Smealum has been working on for about the past six months. "Still nowhere near playable," he writes under the latest video, but it's brought along Portal staples like turrets, cubes, switches and energy balls.
---