Portal is a natural theme for Valentine's Day, as we saw with these cards Valve released in 2011 before Portal 2's arrival. This one is the best of a Valve-themed series done by Tumblr user applenail.
---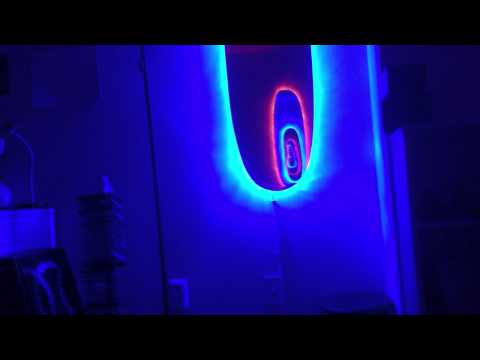 Mirrors lined with blue and red LEDs have long been a staple of Portal-themed decoration. Taking it to the next level, however, is jamin101wolf. He bought the Portal gun prop available through ThinkGeek and Amazon, then plugged the two mirrors into remote-control power boxes. With this he pulls off the effect of firing a red and blue portal (which are located on opposite walls, creating the requisite hall-of-mirrors effect.)
---
Those wanting to work for WibiData better have impeccable Portal problem solving skills. Part of the application process for the San Francisco tech startup involves completing a custom level, based on the company's offices, says the New York Times.
---
YouTube user Marflus1 has created this musical gem, which is described as follows…
---
When Pacific Rim's latest trailer (above) went out last month, a lot of people thought, "Wait! I know that voice!" And indeed, it sounds like jax Teller reading from "The Life and Death of Sam Crow" as an enormous sea monster destroys a bridge. Oh yeah, GLaDOS from the Portal series can be heard as well.
---