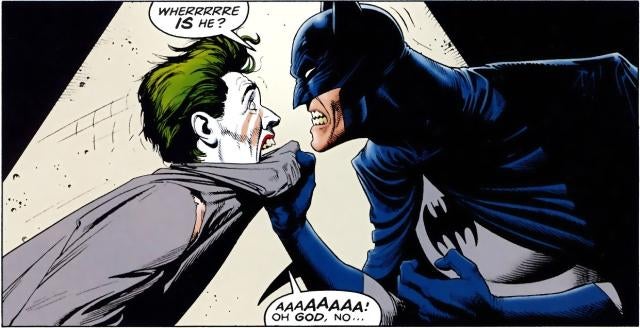 The story for Batman: Arkham Knight picks up one year after the events of the preceding game, 2011′s Arkham City. A whole lot has changed in Bruce Wayne's hometown, including the fact that crime is at an all-time low. Part of it is because someone pretty central to Gotham's criminal ecosystem is laying very low. Warning: Spoilers follow for the end of Batman: Arkham City.
---
---
As news goes, the Video Game Awards are more about the future games they will tease than the existing ones they honour. Kotaku will be in Los Angeles on Friday covering the gala. Here is an internal chatroom discussion among Stephen Totilo, Luke Plunkett, Mike Fahey, Kirk Hamilton and yours truly as we try to pin down the most expected unexpected announcement of the evening.
---
Part of what's made Rocksteady's two Batman video games such great experiences has been the pitch-perfect stories players encountered in each. The narrative contributions in both Arkham Asylum and Arkham City came Paul Dini, who's written excellent Batman stories for TV and film as well. But it seems that Dini may not be returning for the rumoured prequel supposedly due out in 2014.
---
If you thought you had discovered everything in Batman: Arkham City or, if not, it could be found on GameFAQs or in some other corner of the web, well, that's not so, says the game's studio. There are still "three or four" secrets in the game that no one has yet found, the game's director said in a panel discussion at London this weekend.
---
When Batman: Arkham City was released on PC late last year it had a few issues — game breaking issues — but now it seems as though Rocksteady has finally released the patch Arkham City, and its prospective players, deserve!
---