---
Come for the admirable attempt to recreate Predator using Skyrim. Stay for maybe the best Schwarzenegger impersonation I have ever heard. Especially since it's not like there's practice reference for the man saying "THROTHGARD!".
---
So many unanswered questions in this screenshot from Skyrim… The random, yet unmistakable cuddling. The positioning. The imperial guard's moustache… Let's just leave these two here in peace.
---
---
---
This week, ZeniMax Online revealed that their upcoming Elder Scrolls MMO, The Elder Scrolls Online, would cost players $US15 a month to subscribe after purchasing the base game. This has, predictably, set off no small amount of debate.
---
Oh, wait. Never mind, this isn't your sparkly vampire love story, although it does have that signature vampire brooding. But, hey, what can you do? I'd be pissed if I was a vampire too, even if it gave me awesome powers.
---
If you haven't been keeping up with screenshot superstar Dead End Thrills, head on over and see what's new. He's got some great stuff from Skyrim (like the one up top), as well as some excellent shots that capture the striking look of DMC.
---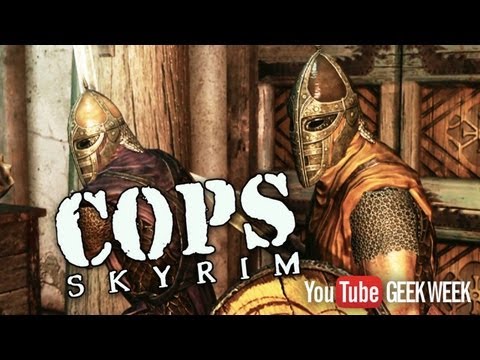 Between the dragons, magical creatures, prostitutes, drugs, and absurd heroes (like you!), being in law enforcement in Skyrim doesn't sound fun….but it is hilarious. For us, that is.
---