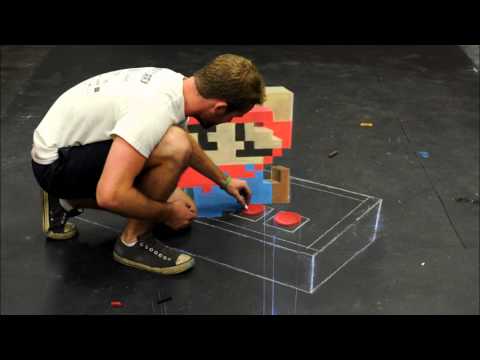 I love 3D chalk art, mainly because my tiny, feeble brain cannot comprehend how they're made, so it's practically the same things as magic. It's like showing a caveman fireworks. But when you combine 3D chalk art with video games? That's cranking things up a notch. Combine that with a step by step video showing how said 3D is created. That's pushing it into the stratosphere!
---
---
Take a look at this awesome graffiti found in the streets of Paris. A down and out Ryu from Street Fighter is added to that empowering image of Muhammad Ali's quickly-won 1965 heavyweight championship rematch against Sonny Liston, which these days you may see more often on the walls of college students than of boxing aficionados.
---
Cup-in-the-fence tribute to Mega Man, on a bridge straddling an overpass, parts unknown. The makers (not the photographer), spray-painted the cups to make the mosaic. More detailed shots can be seen here.
---
---
---