As much as I liked the latest from Smooth McGroove, I was oddly transfixed by the gameplay video that goes along with it. Tetris, man.
---
Here's a challenge: listen through this fantastic rendition of the original Tetris theme by Smooth McGroove, and see if you don't end up with the song stuck in your head.
---
Are you ready to see something incredible? I'm not sure you're ready. Get ready. Are you ready now? OK. Check this business out.
---
Two years ago, the internet stumbled across a guy who would work upwards of two hours to create virtuoso sprite patterns within Tetris. Well, anything humans can do, a computer can do better, right? Here's the Tetris Printer Algorithm. Showoff …
---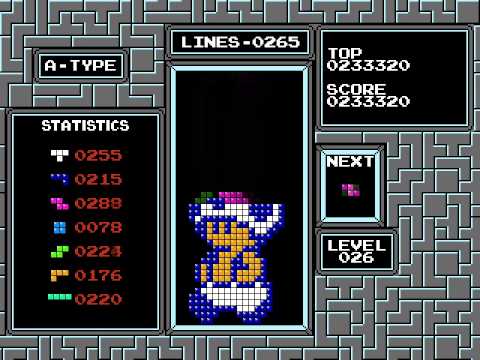 Look it's early in the day, but this is a very strong contender for the best thing ever today. By using a super clever algorithm, and speeding things up massively, it's possible to create some absolutely startling Tetris art that is completely created and destroyed on the fly. Finding it difficult to envision? Just watch the video and set reactions to 'amaze'.
---
Angus Kidman, the Editor of our sister site Lifehacker, was sent this Tetris lamp thing. At first I was underwhelmed, but once it set up and he showed me how it worked I instantly knew I had to own one. I thought it was simple a lamp in the shape of a Tetris game in progress. It's actually individual Tetris blocks that you can build as you see fit…
---
Provided some tips — like those from tetrisconcept — you can keep a game of Tetris going forever. All you need is a Tetris game that randomly generates piece sequences, a hold feature, and at least 3 piece previews.
---
---
Video game soundtracks have been around for more than three decades, if you count back to the doomp-doomp of Space Invaders. This mashup video, created by Ithaca Audio, folds in bits of audio from Tetris, Street Fighter and Sonic next to tracks by David Bowie, Michael Jackson and the old-school Doctor Who theme.
---
Coming soon to Android and iOS, Tetris Blitz takes the lightning round concept of Bejeweled Blitz and applies it to the world's most beloved poozle (Russian for puzzle, probably) game. This does not mean you won't spend an hour playing Tetris in the bathroom at work — you'll just get a lot more games in one sitting.
---