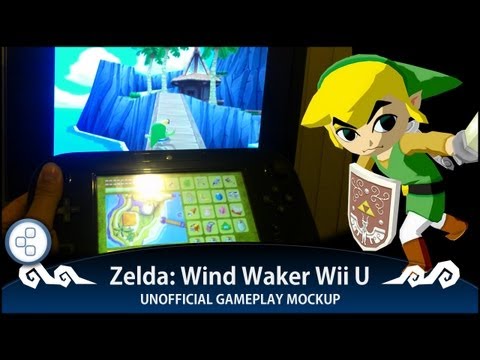 The Legend of Zelda: The Wind Waker is coming to the Wii U this fall, but some people just can't wait that long. The folks at cubed3tv have devised this mock-up to show how the cartoony Zelda game could play on the Wii U GamePad.
---
You'll be able to play The Legend of Zelda: Wind Waker on your Wii U later this year. No, the Wii U isn't suddenly getting backwards compatibility to support the GameCube. Nintendo is remaking the game.
---
The London Philharmonic's latest foray into video game music launched today, and it's pretty good stuff. I haven't found any tracks that quite rival the Tetris theme from the first album, but there are some standouts.
---
The delightful Zac Gorman, who must be a good person if he loves Wind Waker this much, has come up with both a t-shirt and a poster paying tribute to Nintendo's post-apocalyptic high seas adventure.
---
Then, you know, it would be just about the greatest game ever made.
---
Old Link drives Cel-shaded Link on a journey to crush cities. Or fight Godzilla. This is so perfect. Even the puffs of smoke have that Wind Waker look to them. By Drew Whitmore.
---
Link, with some help from his Four Swords co-stars, ditches the stealth approach and tries taking down the Forsaken Fortress the hard way: with beatboxing.
---