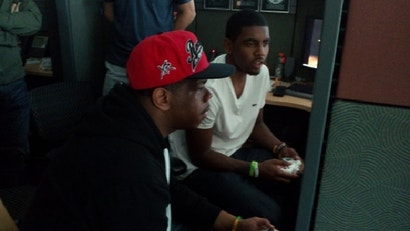 Kyrie Irving, the NBA's No. 1 overall draft pick for 2011, appears to have outed EA Sports' intention to return to the NBA Live name when it publishes a simulation basketball title this fall for the first time in three years.
"In Orlando for #AllStar checking out the #FutureOfBasketball with @EASPORTSNBA. Get to see the new #NBALIVE13!" Irving tweeted about 90 minutes ago. EA Sports' official account then retweeted that picture above of Irving playing the game.
Reached by Kotaku, EA Sports confirmed both the name and the game's release later this fall. "This fall we'll launch an all-new experience that captures the future of basketball with NBA LIVE 13," a spokesman said. "More to come soon."
NBA Live was rebranded as NBA Elite for its 2009 edition, which ended disastrously when the title was scrapped with one week left before release. EA Sports had attempted to reinvent its basketball simulation, which had lagged behind 2K Sports' NBA 2K series, particularly on this console generation, but instead delivered a glitch-filled effort.
That may be why the series is moving away from the NBA Elite label; "Elite" may also be more associated, in gamers' minds, with Activision's Call of Duty service, too.