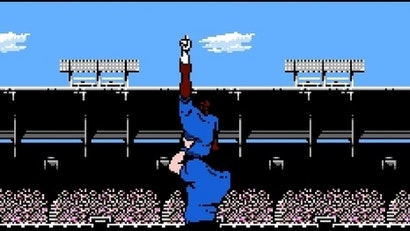 Two days ago, the "Tecmo Bowl MMO" was left for dead, less than halfway to its funding goal on Kickstarter. Today was the deadline for the game. If it didn't raise $US7,500, every cent contributed would be lost.
In a last ditch effort, Gridiron Heroes' project's leader, Dave Murray, asked me, Operation Sports, and Epic Games' community manager Will Kinsler to send out a reminder tweet, two days ago. I figured why not. I wrote about it for Sportaku, and would kind of like see the idea pulled off.
This evening, after a last-minute comeback that conjures images of the Music City Miracle, the Ghost to the Post, and the Bills sundering the Oilers in 1993, Gridiron Heroes met its funding target, just $US163 over the minimum. See for yourself in this chart. This is a game that will be made.
Sport's most emotional moments are often ones manifested as allegories of real life victories. That makes it precious, indeed, when the beauty of real life echoes the allegory of triumph in sport.
Congratulations, Gridiron Heroes.