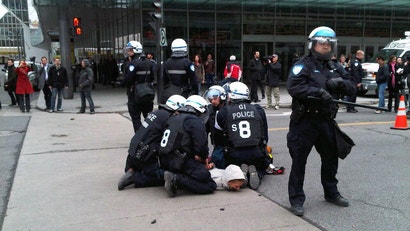 On Friday, THQ's Montreal Studio — the big, fancy, new setup that Patrice is running — spent part of the day locked down as students and riot police clashed on the street directly outside its offices.
A few developers stuck inside looking down on it all sent us links to images from the showdown, which, while far from reaching South Korean standards of student devastation, still showed Canadians know how to break things publicly when they feel like it.
The students were protesting Canada's controversial Plan Nord, which would see increased development in the wilderness above the 49th parallel in Quebec. They were not protesting THQ's plans to re-shape Dark Millennium as a singleplayer experience.
Students clash with police at anti-Plan Nord demonstration [Montreal Gazette]
Top photo: Anne Sutherland