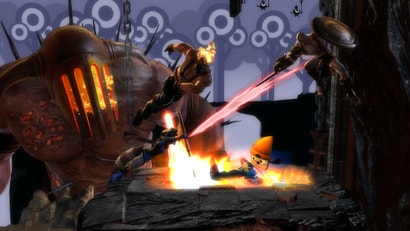 I wanted to roll my eyes at Sony's apparent clone/rip-off/however-else-you-want-to-insult-it/take on Nintendo's Super Smash Bros.
OK, it's not hard to admit that I did roll my eyes at the thing when we finally got official details about the long-rumoured game a couple of weeks ago. But yesterday, I got to play PlayStation All-Stars Battle Royale, and I just don't have hard enough of a heart to roll my eyes at it any longer.
The truth is, it's fun to be able to beat up God of War's Kratos with the one and only Fat Princess Fat Princess. When she, under my control, throws cake at him, how can I then say this game doesn't deserve to exist? I was having too much fun tangling with Sly Cooper and Twisted Metal's Sweet Tooth while the level we were playing on transformed from a self-creating LittleBigPlanet stage into a Buzz quiz stage. When it was a Buzz stage, the LBP platforms became labelled with answers to PlayStation trivia questions. If you're standing on the wrong one when the timer is up, you're zapped out.
How could I hate this?
I told the game's director from development studio SuperBot Entertainment, Omar Kendall, that I'd been cynical when I first heard about the game. Him, too.
A better name? We've grumbled about the quality of this game's name. "It's a mouthful," Kendall admitted. "I really hope the community settles on a colloquialism quickly." One of his favourites sounds like "Sassber." It's the acronym for the game's real name, with a silent P. I'm not sure. Sounds too much like "Smash Bros" to me. What's wrong with its old code name Title Fight?