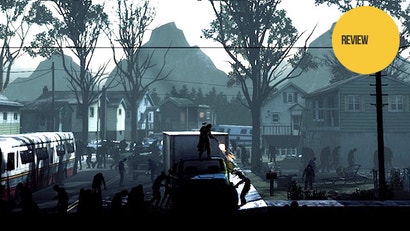 We're at the peak of our zombie apocalypse discontent. We've played so many zombie games; we've had glorious highs and depressing lows. We've grown sick of zombie games only to be surprised by good zombie games only to become sick of zombies games all over again. At this point, what kind of magnificent zombie game would it take to shake us out of our funk?
Probably not Deadlight. Beneath its appealing graphics and brooding vibe lies a derivative and frustrating game that is rarely rewarding or enjoyable.
Deadlight is a side-scrolling platformer with a veneer of gritty realism to it — this is more Resident Evil than Mario. It was made using Epic's hotshot Unreal engine, which gives it a "3D in 2D" kind of feel, though it is in fact a two-dimensional game. The superficial comparison would be to Chair's triumphant 2009 action exploration game Shadow Complex, which also used Unreal. But the comparison is only superficial — I loved Shadow Complex. I did not love Deadlight.
Things start off promisingly. It's the mid-1980's and a zombie outbreak has struck Seattle. Called "Shadows," Deadlight's zombies are red-eyed freaks that chase and devour anything that moves. The story starts as the protagonist, Randall Wayne, has killed one of his party members. In comic-book cutscene format, he grittily explains that he had no choice. She was bitten, see, and it was only a matter of time before… oh, you've seen a zombie movie. You know how it goes.
Soon Randall is making his way through ruined downtown Seattle on his own, sprinting through a series of broken buildings and vistas that are haunting and gorgeously illustrated. Seattle is an ideal location for Deadlight's sodden, depressing brand of apocalypse, and the art direction shines throughout, particularly in the breakneck opening 30 or so minutes.
I started to get nervous when I realised that Randall was literally sprinting through these backdrops — there was no time to appreciate anything, no time to breathe. The whole game has this problem — there's not a lot of meat to it, and what meat there is feels thin and unsatisfying. That's because Deadlight suffers from some serious pacing problems — both story pacing and gameplay pacing.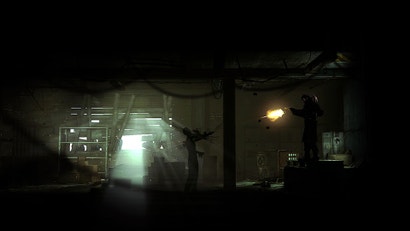 The story pacing is symptomatic of a bigger problem — namely, that the story is a nonsensical mess. For starters, developer Tequila Works appears to have been hampered by some English language translation issues with their script. Somewhere along the line someone should have pointed out that the characters say things like:
"Darkness does not exist. What we call darkness is the light we cannot see."
"You've seen it with your own eyes: Seattle is dead. That blood in your saliva is the only real thing we have left, Stella."
Deadlight
Developer: Tequila Works Platforms: Xbox 360 Release Date: August 1
Type of game: Side-scrolling action/platformer with horror elements and zombies. What I played: Completed the story in around 3-4 hours, though it could have been a bit less.
My Two Favourite Things
The well-paced opening 30 minutes.
Shooting zombies in the head with a pistol feels as disconcertingly satisfying as it usually does.
My Two Least-Favourite Things
A nonsensical early segment in which Randall must navigate some crazy guy's booby trapped underground lair as the crazy guy follows and offers friendly advice. It's bizarre.
The final third of the game is a frustrating mess that feels unfinished.
Made-to-Order Back-of-Box Quotes
"Deadlight made me miss Seattle. Weird." — Kirk Hamilton, Kotaku
"The third act is great exercise for your eye-rolling muscles!" — Kirk Hamilton, Kotaku
"Man, why can't they just make Shadow Complex 2?" — Kirk Hamilton, Kotaku