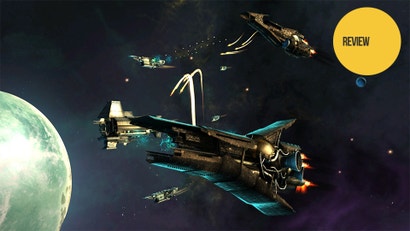 There are plenty of games about flying a starfighter, or being a space merchant, or a humble lowly space marine who runs through space stations shooting everything that moves. There are plenty of games where you're an officer in some kind of army of the stars, clicking your way to victory as your tiny little minions give their tiny little lives for the cause.
Those kinds of games are fine, but sometimes you want more. You don't want to be the guy taking orders from the Emperor. You want to be the Emperor.
Endless Space lets you be the Emperor.
Managing the economy, industry, science and military of a sprawling galactic empire isn't — at least I'd guess it isn't — an easy thing to do. All those planets to monitor, all those unhappy workers, all those alien starships blowing stuff up across the fringes of known space, it's a lot to stay on top of.
For Endless Space, a game that follows so closely in the footsteps of classic 1993 title Master of Orion, staying on top of the nuts and bolts of galactic governance is never a problem. A surprisingly attractive and clean user interface (these kind of games are normally as stylish as a text book) makes it easy to navigate the necessary levels of menus and research screens, while smartly-designed pop-ups keep you informed about decisions that need to be made sooner rather than later.
ENDLESS SPACE
Developer: Amplitude Studios Platforms: PC Released: July 4
Type of game: Space Strategy What I played: Three singleplayer games, one as the United Empire, one as the Pilgrims and one as the Sowers. Briefly tested multiplayer (it works!), but didn't have time to complete a whole game.
Two Things I Loved
It's pretty. Every other game in the genre should take note that, yes, it helps when you look good.
There's a great understanding of prioritising player information and pop-ups.
Two Things I Hated
The game has a personality disorder. Namely, it doesn't have one.
Combat is basic and unfulfilling.
Made-to-Order Back-of-Box Quotes
"The perfect game for fans of spreadsheet clicking! 8.5/10!" — Luke Plunkett, Kotaku
"It's no Master of Orion, but you know what, it's close enough" — Luke Plunkett, Kotaku