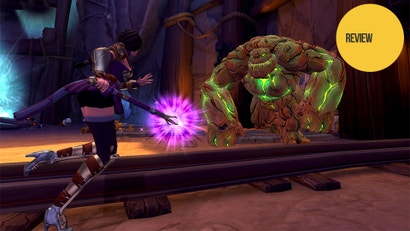 No, you haven't woken from a coma to find yourself in the year 2013. It's only been nine months since the first Orcs Must Die was released, and yet here we are, talking about Orcs Must Die 2.
That means we're dealing with one of two things: a horribly rushed game, or something that's a sequel in, well, name only, retaining most of the content you could find in the original.
Orcs Must Die 2 is the latter. And that's not all a bad thing.
We never got around to formally reviewing the first game, but I enjoyed it; like Iron Brigade/Trenched, it took the basic idea of a tower defence game and stuck a third-person shooter in the middle of it, allowing the player to run around and directly influence the flow of battle.
This sequel does the same thing, only with co-op. And this time, only on the PC.
Orcs Must Die 2
Developer: Robot Entertainment Platforms: PC Released: July 30
Type of game: Tower Defence / Action What I played: Completed singleplayer using the new Sorceress character. Unable to test co-op adequately due to nobody else I know having the game.
Two Things I Loved
The constant juggling between action and strategy is quite the rush.
I love Robot's art design, and this game is no exception.
Two Things I Hated
Some levels favour co-op play a little too much.
Too much recycled content from the first game.
Made-to-Order Back-of-Box Quotes
"I sure killed a lot of Orcs." - Luke Plunkett, Kotaku.com
"If I see one more flying thing get past my defences, I'm going to choke something to death" - Luke Plunkett, Kotaku.com