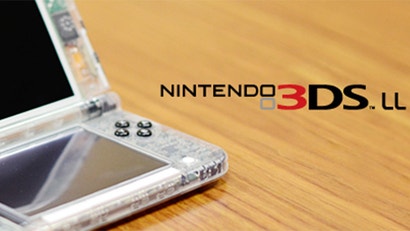 There are various 3DS XL colours to choose from. There are even more colours for the smaller, original 3DS model. None of them are the colour I want. I want the Nintendo 3DS with no colour. I want the clear one.
Above is a transparent 3DS XL Nintendo recently showed off in a Q&A on its site. A "clear" version hasn't been slated for sale, and this model was used in the Q&A to discuss the new plastic resin Nintendo is using for the 3DS (and how difficult it is to paint said resin).
Moreover, Nintendo used the clear 3DS XL to show where it hid the FPC (flexible printed circuit), which connects to the upper screen and is hidden in the hinge.
Clear electronics are fascinating — they do not try to mask the beauty of engineering that powers the device.
In the past, Nintendo has released several clear (or nearly transparent) handhelds — for Play It Loud Game Boy, Game Boy colour, and Game Boy Advance. It's about time Nintendo did the same for the 3DS or 3DS XL, no?
3DS LL [Nintendo via Tiny Cartridge]