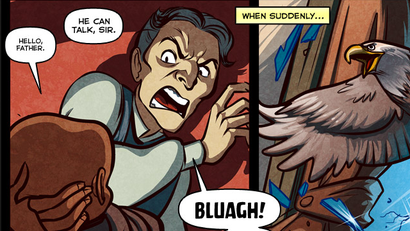 Diehard Team Fortress 2 fans have spent all weekend sleuthing out Friday's tease, in which a "Gray Mann" is revealed to be the brother of Redmond and Blutarch Mann, owners of the game's RED and BLU teams. Tons of evidence suggest this is going to be a robot faction, which Valve itself all but confirmed today in two more clue dumps — the will of the brothers' father and, more importantly, a new webcomic in which grey is shown for the first time.
Read it for yourself, but it's quite apparent this guy grey uses some heavy duty prosthetics. The will, which surfaced sometime overnight, can be found by clicking on a second bloodstain appearing on the banner of the Team Fortress 2 homepage.
A NeoGAF reader also notes that, on the front page logo, Scout, Heavy and Spy all seem to be giving Engineer dirty looks, which conforms to the thesis of that amazing video at left. It collects two years' worth of visual clues, leaks and curiosities that imply Engineer is responsible for the construction of a robot team, and that whatever this mode of play is to be, it'll be called "Man vs. Machine."
Sure, maybe we kinda know what this is all about by now, but that doesn't mean a forensic investigation of it isn't fun. Especially if it reveals some kind of a canonical structure for this feature going back two years. For more, visit the thread on NeoGAF, they seem to have uncovered some kind of encrypted file in the latest update, which upon decoding looks like the basis for another ARG.