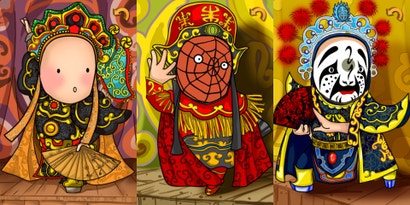 To see his four-week-old daughter smile and giggle, 31-year-old Nanjing resident Fang Peng decided to create a game for his daughter to play.
Realising that all the games on his tablet and smartphone were games more geared towards adults, Fang aimed to create a game so simple that even a new born would be able to play. After about five months of development Fang created a simple app based on the Chinese "magic" of face changing. Fang showed his game to his daughter, Wanwan. To Fang's delight, Wanwan giggled with glee over Fang's app.
Fang's game, a simple one touch app that is more of an entertainment app, has received glowing reviews and downloads by Chinese netizens. They were all in awe by the simplicity of Fang's game, a game that takes something so... magically Chinese and merges it with the modern magic of smartphones. In Fang's game, the player basically has to move the phone and the on screen character will automatically swap out to a different mask.
Face-changing or Bian Lian as it's known in China is a trick where a performer who wears a painted face mask changes "faces" in a blink of an eye. This happens to be an ancient type of "magic" that is only passed down along family lines. A few years ago (like 8 years) Hong Kong superstar Andy Lau spent about $US360,000 dollars on obtaining the secret to the art. To experience this magic on the iPhone, you won't need $US360,000. The equivalent of a dollar should cover it!
南京80后老爸为女儿设计手机游戏:摇一摇会变脸 [人民网]