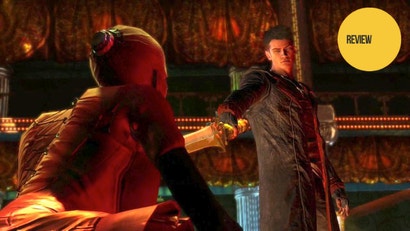 New Coke lives on only as a joke. But, imagine if you will, a reality where that reworking of the ubiquitous soft drink was actually good. You won't have to think that hard about such a plane of existence. All you have to do is swap New Dante for New Coke and, bam, there you are in a world where everything can be different. Yes, the re-imagined Dante and the game he stars in — a revamp of Capcom's popular Devil May Cry action series — is excellent.
When the new take on Dante first appeared, fans of the older games grumbled loudly about how this take ruined everything. But, those players who grew up on a diet of stylish action against demonic hordes should be pleased by gameplay changes made by Ninja Theory. And though this is a crasser, more grounded version of the lead character, the tweaks to Dante's affect make him more well-rounded and sympathetic.
As far as the button-pressing goes, the pillars of the formula are still here. You wield firearms and bladed weapons in a rapid dance of carnage against hellish forces. Switch from the various attacks at your disposal lets you create unique combo that you get points for. Style is still paramount.
Devil May Cry has always been about panache. The original set of games — produced exclusively in Japan — focused on a particular strain of otaku cool. There was flair, yes, but more than a little cheese as well. Old-school Dante looked like a refugee from a 1980s hair-metal band and his wisecracking dialogue was as clunky as it was memorable.
DmC
DmC re-imagines Capcom's storied occult rock action franchise with an angry-youth update that brings tons of fresh energy to action fans.
Developer: Ninja Theory and Capcom Platforms: PC, PS3, Xbox 360 (version played) Released: January 15 Type of game: action/adventure game with occult heavy metal overtones shot through with "We are the 99%" iconography. What I played: played through 18 of 20 missions over 17.5 hours.
Two Things I Loved
DmC's sense of flow is divine. Whether swinging the environment and switching grapple types as you go or changing up your attacks one, two three times in an eyeblink, you feel caught in a constant stream of challenge and reward.
The gritty art design and great enemy types do a great job of world-building that makes this reboot feel very fleshed out.
Two Things I Hated
There's a lot of foul language in DmC and it occasionally feels like the creators themselves are desperately trying to be thought of as outlaws.
Some of the boss fights drag on too long.
Made-to-Order-Back-of-Box-Quotes
" See, Resident Evil 6 devs, this is how you update a formula." — Evan Narcisse, Kotaku
"The Dante is dead. Long live the Dante." — Evan Narcisse, Kotaku