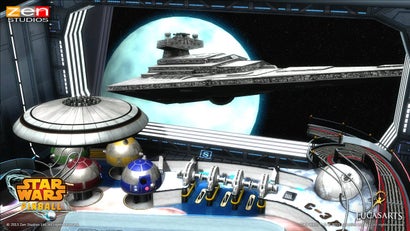 Star Wars Pinball's first three tables — The Empire Strikes Back, Boba Fett and The Clone Wars — will release next week on a slew of mobile and console platforms. Pricing and release dates are different for all of them, so pay close attention.
First, PlayStation 3 and PlayStation Vita gamers may also buy the set of three for $US9.99 as DLC for the Zen Pinball 2 game available in the PlayStation Store. The set comes with cross-play entitlement, meaning the same purchase is good for PlayStation Vita and PS3. North American PS3 and Vita customers get the set on February 26; it releases in Europe on February 27.
On February 27, The tables will be available in a pack of three for the Xbox 360's longstanding Pinball FX2 game. The set is 800 Microsoft Points.
The tables also are available on February 27 a la carte for those with Zen Pinball 2 on the Mac App Store (where they are $2.99 each) or Zen Pinball on the iTunes (iOS) App Store ($1.99 each). Android devices with Zen Pinball HD can buy the tables for $1.99 each on Google Play beginning February 27.
The series will also be available as a standalone app on the iTunes App Store and Google Play as Star Wars Pinball.
Notably, there is neither a Wii U nor a 3DS release. Zen Pinball just released for Wii U on the Nintendo eShop, and it's been out in a standard-definition form on the Nintendo 3DS for more than a year.
A total of 10 Star Wars Pinball tables will be released. Themes for the remaining seven have yet to be announced.