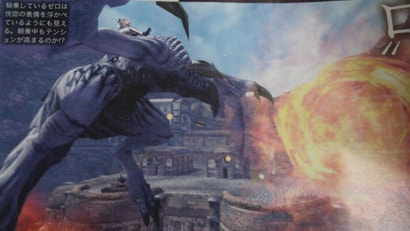 Square Enix is readying a new Drakengard game. Dubbed Drakengard 3 (Drag-On Dragoon 3 or ドラッグオンドラグーン3 in Japanese), the action role-playing game follows the adventures of Zero (ゼロ) and her younger sister named "One" ("Wan" or ウン).
Zero, who sports an artificial left hand, has a flower that sprouts from her right eye. Her special power is called "Utautai" (ウタウタイ), which in the game is the ability to use singing as a magical power. In Japanese "utautai" (歌うたい) means "singer" or "vocalist".
Her younger sister, One, also has the Utautai special power. But the two sisters are very different: Zero has more of a carefree and even lazy personality, which strikes a marked contrast compared to her serious and intellectual little sister.
The game has players make their way through battle, and when the characters are soaked in blood, then the magical power of song reaches its apex.
The singleplayer game is slated for release sometime this year on the PlayStation 3. No word about a Western release.
ドラッグオンドラグーン3 ジャンル/アクション [2ch]