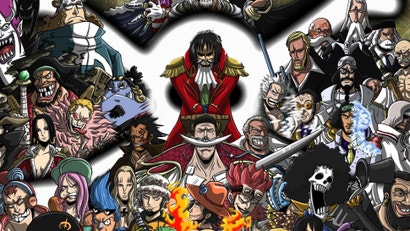 What do Michael Jackson, Mikhail Gorbachev and Ghandi all have in common? They apparently look like One Piece characters, that's what.
Created by Twitter user @Sato3rd, the image below has been making its way around cyberspace recently. It shows One Piece characters and the real world individuals they either look like or seem inspired by.
One Piece's creator Eiichiro Oda has apparently said that some of his creations are based on actual people. Compare for yourself.
Click on the image below to expand to full size.
Keep in mind that this is Sato3rd's personal opinion, but here's a list of the above real world individuals and their possible One Piece doppelgangers (via DeviantArt):
• God Enel - Eminem | • Steven Tyler - Jango | • Jim Carrey (Lloyd Christmas) - Mr.2 BonClay | • Jim Carrey (Ace Ventura) - Mr.2 BonClay | • Freddie Mercury - Peeply Lulu | • Joey Jordison - Basil Hawkins | • Michael Jackson - Hody Jones | • Lenny Kravitz - Mr.5 | • Twiggy - Miss Valentine | • Hugo Boss Model - Paulie | • Al Capone - Capone Bege | • Valentino Rossi - Trafalgar Law | • Mick Foley - Spandam | • Louise Brook - Nico Robin | • Uma Thurman (Mia Wallace) - Shakky | • Stevie Ray Vaughan - Postgas D. Ace | • Tim Curry (Dr. Frank N. Furter) - Emporio Ivankov | • Yusaku Matsuda - Aokiji/Kuzan | • Kunie Tanaka - Kizaru | • Bunta Sugawara - Akainu/Sakazuki | • Danny DeVito (The Penguin) - Dr. Hogback | • Hulk Hogan - Whitebeard | • Daft Punk - Killer | • Jean Rochefort - Gun Fall | • Cruella de Vil - Inazuma | • Harvey Keitels - Rob Lucci | • George Clooney - Iceburg | • Mikhail Gorbachev - The Gorosei ( Five Elder Stars) [• Mahatma Gandhi - The Gorosei ( Five Elder Stars) [• Michel Polnareff - Don Quixote Doflamingo
One Piece characters are real life people [SATOart via なお]
Top picture: One Piece Cosplay