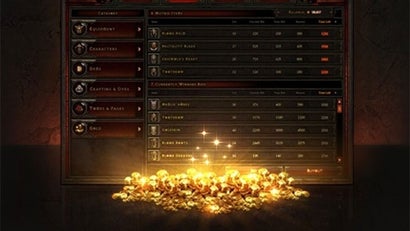 Diablo III's in-game economy is in serious trouble tonight after users claim to have discovered an exploit in the game's latest update which lets them duplicate gold.
Seems a glitch is letting people cancel a transaction in the Diablo III auction house before it's completed, with the result that any money involved is doubled.
The game's forums are overflowing with users reporting/complaining about the exploit, calling for bans and rollbacks of the update as the instantaneous inflation is destroying Diablo III's economy.
We've contacted Blizzard for comment, and will update if we hear back. Until then, you're advised to not spend a cent of real money in the auction house until the mess is cleaned up.
Gold Dupe on the RMAH? [Diablo]