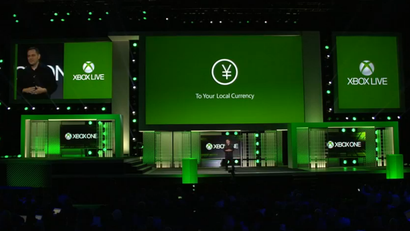 So the Microsoft conference has been and gone, bringing with it pricing (even local pricing!) along with a host of new game announcements and some great demos for titles we were already aware of.
Stay tuned to this post. We'll be updating it as news pours in from the conference.
News...
Really the focus was on the games (see below!) but there were a handful of breaking stories... Microsoft space bux are gone.
We Have An Australian Price For The Xbox One Xbox One Is $499 In The US Microsoft Points Are Dead Redesigned Xbox 360 Available Today
Games...
There were a lot of games. But we sort of expected that. Highlights for me were Metal Gear Solid 5 and Titanfall. Killer Instinct? I never asked for this, but I'll take it!
Titanfall: Respawn's Big Xbox Exclusive Is Coming Early 2014 Halo Coming To Xbox One In Some Form Dead Rising 3 Is Coming To Xbox One Minecraft Is Mining And Crafting Its Way To the Xbox One Insomniac Is Making A Wild Exclusive For The Xbox One Killer Instinct Returns Exclusively For Xbox One Ryse Son Of Rome Looks Like A Better Video Game Version Of 300 Metal Gear Solid V On The Xbox One Looks Fantastic World Of Tanks Is Coming To Xbox 360
Other stuff...
There's A Hidden Message In The Witcher 3's Debut Trailer The Trash Talk During The Killer Instinct Reveal Was Awful