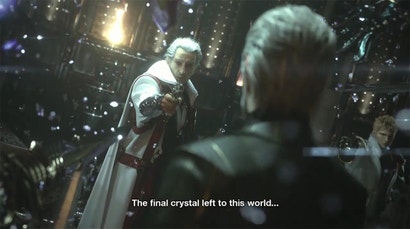 Final Fantasy XV is coming to the PS4 and the Xbox One, Square Enix just announced. "FFXV is being developed with a tool called Direct X 11," Shinji Hashimoto said at today's Square Enix press conference.
"With this tool it's possible to port the title to various hardware," Hashimoto added. "Following yesterday's announcement [for PS4] we would like to announce that we are porting Final Fantasy XV to Xbox One as well." According to Hashimoto, the Xbox One release is worldwide and includes Japan as well.
According to Square Enix, the game is not scheduled for release during its current financial year, which ends on March 31, 2014.
Final Fantasy XV was originally announced as Final Fantasy Versus XIII in 2006. The game was slated to be a PlayStation 3 exclusive. Over the years, Square Enix repeatedly asserted that Final Fantasy Versus XIII was a PlayStation exclusive.
"As you know Versus XIII was created as part of the Fabula Novalis epic," Hashimoto said during a reporter Q&A. "While development was going on, the content and world expanded. To deliver in an appropriate way to the fans we figured this might be the perfect time to evolve the title to XV for the next-gen consoles."
When a reporter asked Hashimoto how far along Final Fantasy XV was, he said it was too early to say. "Development is moving forward," he added.
In 2012, Kotaku first reported that Final Fantasy Versus XIII had been folded into the next numeric Final Fantasy title.