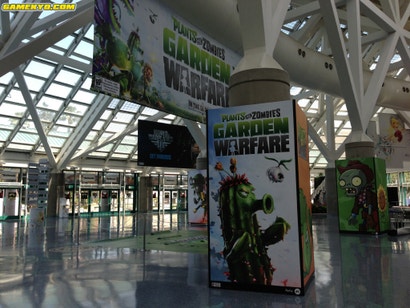 A sign for a PopCap game called Plants Vs. Zombies: Garden Warfare is sprouting up at the Los Angeles Convention centre, the site of this year's E3. Combine that with a reliable source telling Kotaku that the long-rumored PvZ shooter — yes, shooter — is about to unveiled, and it looks like we've got a name to attach to the game.
You know... the title sounds like "Modern Warfare". Get it?
The photo for Garden Warfare ran on the gaming website Gamekyo today (we spotted it via Polygon). But the signage doesn't explain what kind of game this is and observers might assume it's tied to the newly-announced Plants Vs. Zombies 2. PvZ 2 is a tower defence game in the same style as the first PvZ. Garden Warfare most likely is not.
There's that title.
And there's all those rumours. Our sleuth Superannuation dug this up last August:
Among the handful of openings [at PopCap] was one from April for a 3D animator — something that seems pretty peculiar given PopCap's history as primarily developing 2D games. However, that is nowhere near as baffling as the description of the job in the listing, which mentions that the animator is involved in the synthesis of "gameplay, storytelling and character movement" by making "emotionally believable characters that allow game players to interact with the game, whether photorealistic or stylised, in a realistic and believable fashion."
And then a Kotaku source told us this later that same day:
This afternoon's great PopCap mystery may now be a little less mysterious: a Canadian industry source with ties to Electronic Arts has told Kotaku that a small team at EA's Burnaby campus is working on a new entry in the Plants vs Zombies franchise.

The thing is, it's not another tower defence game. Apparently it's a multiplayer-oriented first-person shooter. For consoles. Seriously.

...

Which certainly fits with what Kotaku has since been told: that the small team, comprised mostly of former members of EA's Black Box studio (Skate, Need for Speed), is working on a Plants vs Zombies console title that's "in the vein of Team Fortress 2".
We've reached out to PopCap for comment. Worst case scenario, we'll know for sure what Garden Warfare is on Monday, when EA holds its big E3 press conference.