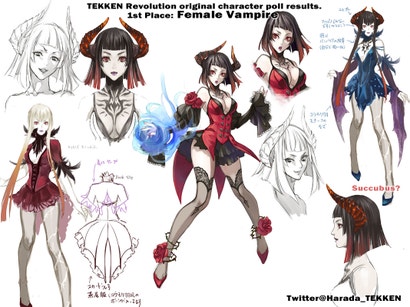 If you were hoping to see a giant, flopping, egg-spewing salmon as the next character in Tekken Revolution, I have bad news: Of 10 concepts they could have picked, Tekken picked perhaps the sanest one: Female Vampire.
Female Vampire, as yet unnamed (described on the official Tekken site as, "a young girl, long imprisoned by the Rochefort family") easily prevailed and was announced at Comic-Con as the next character in Namco Bandai's free-to-play fighter. She's pictured above.
Vampire edged out "Sexy Female Tekken Force Character", and Shin Kamiya finished a respectable third. Zombie Bride was fourth, the fish finished fifth, and was followed by "Female Paul", then "Giant Praying Mantis" and GANMI-chan tied for seventh. Togo was ninth, "Average, run-of-the-mill Old Man" was 10th and are you really surprised? Look at the branding he got.
"Female Vampire" is set to join the roster later this month when Tekken Revolution rolls out a big update, bringing more characters and costumes with it.