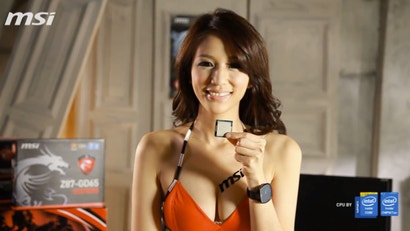 MSi, the Taipei PC gaming company, released a new video that shows how to build a MSi Z87-GD64 Gaming PC. Or something. Apparently, all you need is a Philips driver, a bikini, and a bad English language dub. Oh, don't forget the cheese ball pop music!
Because that's how you build a gaming PC, right? Um... No.
On YouTube, people are making the obvious comments about the video, but there were more insightful ones about why the PC building element is all wrong — not to mention the video itself.
"First of all you don't hold the CPU like that, and you don't touch the gold plates on the memory," wrote YouTube user Dawie Fourie. Numerous other YouTube users pointed out that this was no way to hold a CPU.
"MSI this is the last straw," wrote YouTube user Luke Yorn. "Why didn't you use a real expert instead of this over the top crap?"
How to build a MSI Z87-GD65 GAMING PC [[email protected] via @Grummz]