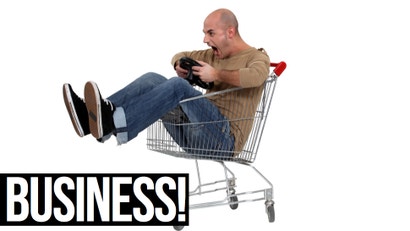 What's happened in the business of video games this past week ...
QUOTE | "We need to curb [used games] on the retail side. We're putting the consumers in an awkward spot and we shouldn't have to." — Ready at Dawn boss Ru Weerasuriya, saying that GameStop and other outlets exploit developers and consumers.
QUOTE | "Publishers rock. They can be awesome. ... But allow us the choice to self publish, or work with a publisher we choose for ourselves." — Mike Bithell, indie developer, discussing Microsoft's move to open up the Xbox One to indies.
STAT | 7.7 million — Number of current subscribers to World of Warcraft, down 600,000 from last quarter; the MMORPG hit its high point in 2010 with 12 million subscribers.
QUOTE | "Microsoft may have the benefit of a 2-3x unit advantage at launch compared to Sony's PS4." — Analyst Colin Sebastian, saying info from the supply chain suggests the Xbox One may outship the PS4.
QUOTE | "If a game is really good, it should be all word of mouth, in a perfect world." — Paula Cuneo, VP of transmedia marketing for Meteor Entertainment, explaining why they're not spending money on Hawken advertising.
STAT | $US8.2 billion — Amount it cost Activision to buy itself back from Vivendi; the company is now owned 63 per cent by the public, 12 per cent by Vivendi, and 24 per cent by an investment group headed by CEO Bobby Kotick.
QUOTE | "Just because we have Bejeweled or Plants vs. Zombies doesn't mean we can do a crappy job." — PopCap founder John Vechey, describing the need to keep constant pressure on making a good game.
STAT | 2 million — Number of copies of SimCity Online that EA has sold so far, despite initial troubles, EA Labels president Frank Gibeau said "SimCity is a success.".
This Week in the Business courtesy of GamesIndustry International
Image by auremar [Shutterstock]