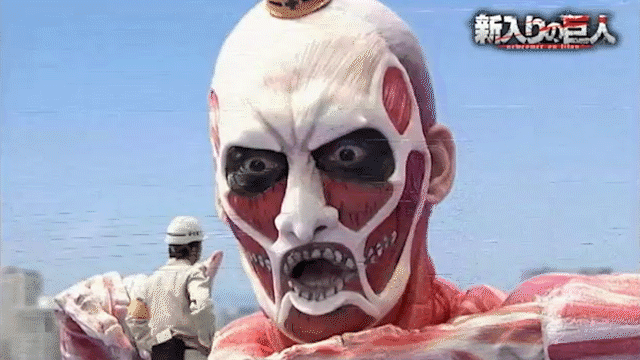 Human-eating giants might not be funny, but human-eating giants with new jobs in construction are.
Yesterday, Japanese variety show Smap x Smap did a short Attack on Titan skit called "Shiniri no Kyojin" (新入りの巨人), which translates as "Giant Newcomer" (though, the show used the subtitle "Newcomer on Titan"). It's a pun on the anime's Japanese title, "Shingeki no Kyojin" (進撃の巨人).
Smap is a popular Japanese boy band — the term "boy" is used loosely here as the group is advancing in age. In the skit, Smap member Goro Inagki is a construction foreman, and Tsuyoshi Kusanagi is in full Titan makeup.
Smap X Smap [FujiTV]