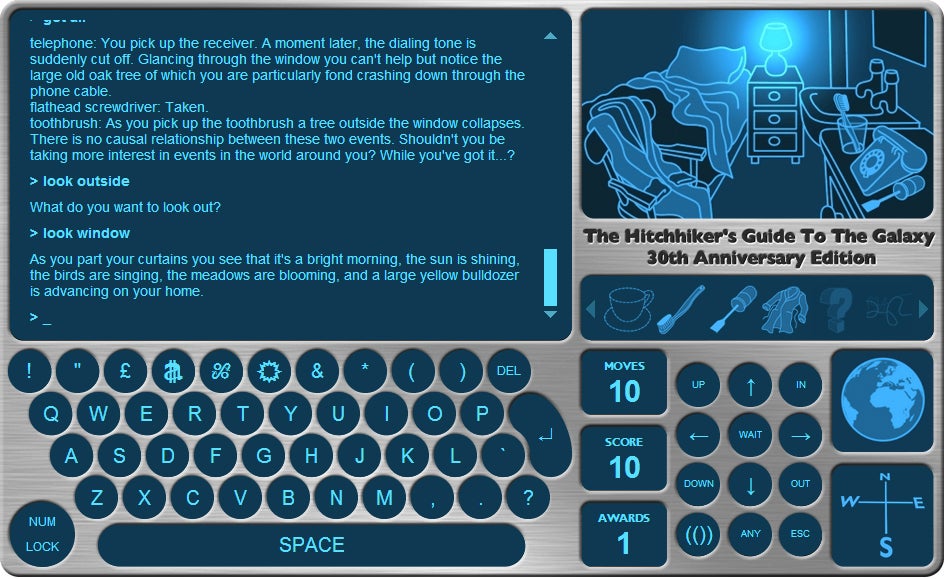 Thirty years ago, I received my first proper Apple-compatible computer, and a single game to play on it — Infocom's text-based The Hitchhiker's Guide to the Galaxy. The BBC has prettied up the game for its 30th anniversary, and it's still just as wonderful as it was way back when.
One of Infocom's best, The Hitchhiker's Guide to the Galaxy is, of course, based off the first of legendary writer Douglas Adams' six-part science fiction trilogy. It follows the character of Arthur Dent as first his home and then his planet are demolished in the name of convenient travel. From there it loosely follows the events of the first book, culminating in the promise of a sequel that never arrived due to Infocom having no one around to make it and the market's growing interest in graphics.
I say "bah!" to graphics, and then I quietly pull them aside to apologise sincerely, explaining that I really love them and just didn't want The Hitchhiker's Guide to the Galaxy 30th Anniversary Edition to feel bad. Graphics smile with understanding and pat me on the shoulder — they get it.
The 30th Anniversary Edition of The Hitchhiker's Guide to the Galaxy is playable for free over at the BBC (via Tech Crunch).