Yesterday's Nintendo Direct about Smash Bros was full of news — and much of it was so exciting to fans, they couldn't help but get pumped about it all.
You might even say the Direct got the 'ol hype train going…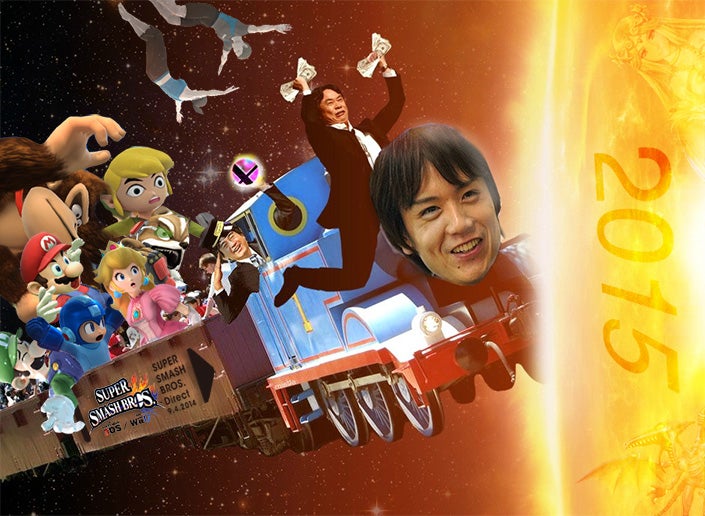 (Via viceprinciples)
Most of the reactions were about a few key things: Pokemon, Samus, new characters, and the new For Glory and For Fun modes.
Notably, people reacted rather strongly to the inclusion of Greninja — partially because it was so unexpected, and partially because people felt that Sakurai had trolled them.
I mean, look at the guy. He faked us out multiple times during the Direct!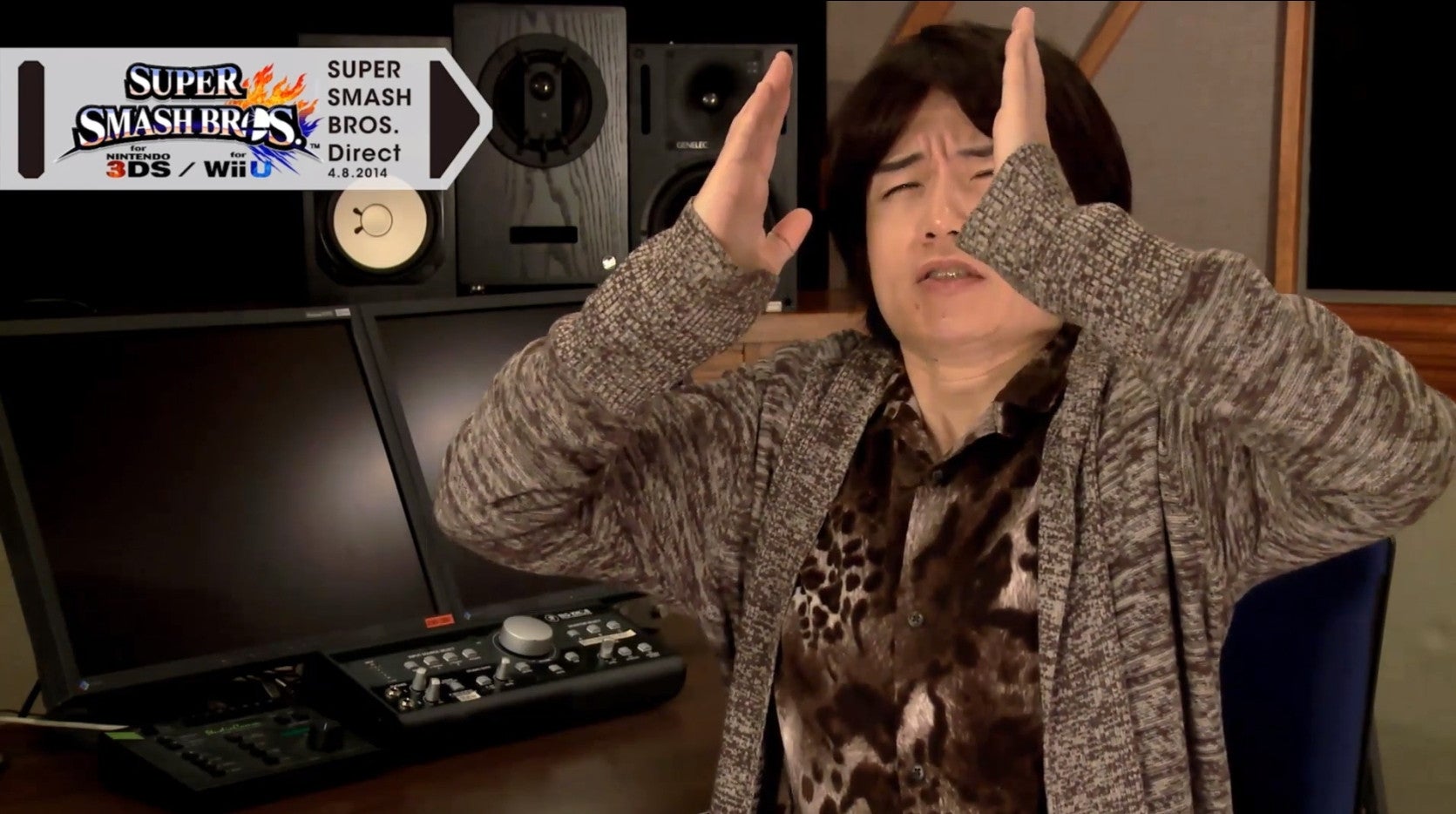 The Greninja reveal itself could be considered to have been a troll, too. Most fans were expecting a Mewtwo reveal, and the footage revealing Greninja takes its sweet time making it seem like its Mewtwo, too. And judging from reaction videos, like this one by TailsChannel, people fell for it — hard.
Most of the reaction to Greninja is kind of funny, though.
This pretty much sums up my reaction to Greninja being confirmed. pic.twitter.com/Yx7Qf7pt4e

— Zach (@NGameTheCube) April 8, 2014
trying to figure out why i don't care for greninja and i think it's because his TONGUE IS WRAPPED AROUND HIS NECK

— Brian Lee (@LRcomic) April 9, 2014
greninja fans starin at mewtwo fans like pic.twitter.com/P8BUosoFwu

— DarkGenex (@DarkGenex) April 9, 2014
I don't want a ninja frog Pokémon. Give me the keyring or the ice cream cone or something.

— Joel Joestar (@BooDooPerson) April 9, 2014
(Via zombiescantfly)

(Via ahoge-fries)

(via pastrami-sensei)
Greninja even started trending, along with other subjects like Rob Ford and Kim Kardashian.
Rang 1-5 :: 1) Ultimate Warrior 2) Greninja 3) Kim Kardashian 4) Tom Ford 5) Vance McAllister #Trends_US #US #Trend #Trends

— Trends_US (@Trends_US) April 9, 2014
Which makes sense, because like I said, people were pretty excited. They even drew
entire comics about Greninja's inclusion.
(Via gabbiehstuff)

---
Granted, people cared about other things, too.
Veteran? Oh shit, did Charizard serve in Vietnam? RT:"@NintendoAmerica: Veteran fighter Charizard flies into the #SmashBros. roster!"

— Marty Sliva (@McBiggitty) April 8, 2014

THEY PUT ZERO SUIT SAMUS IN HIGH HEELS FOR A FIGHTING GAME pic.twitter.com/CKgCOWMS4T

— Scott Jon Siegel (@numberless) April 8, 2014

What just happened to my twitter it's like charizard is doing something or something what pic.twitter.com/e04WkuXAYw

— IDDQD/IDKFA (@legobutts) April 8, 2014

Wow, Colour-TV Game 15 in #SmashBros. What's next? A Nintendo Love Hotel stage?

— Steve Lin (@stevenplin) April 8, 2014

i just saw the new zero suit samus design and i'm glad they finally confirmed bayonetta

— tj thomas (@TRONMAXIMUM) April 9, 2014

suddenly excited for samus' high heels pic.twitter.com/OWB4p1ZGDQ

— natasha allegri (@natazilla) April 9, 2014

(Via stopallstars)

---
Folks also couldn't help but make fun of the new 'For Glory' mode, which is meant for more serious play.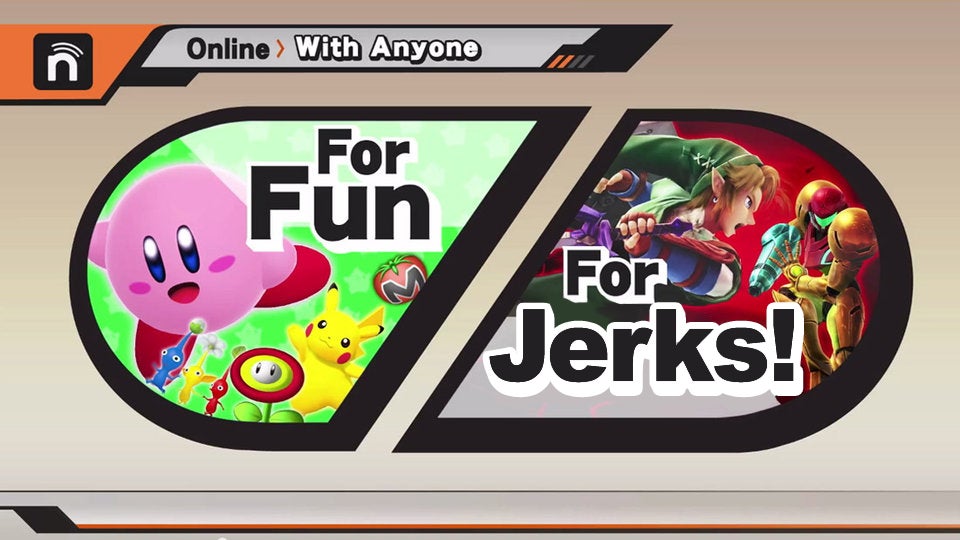 (Via scarymask)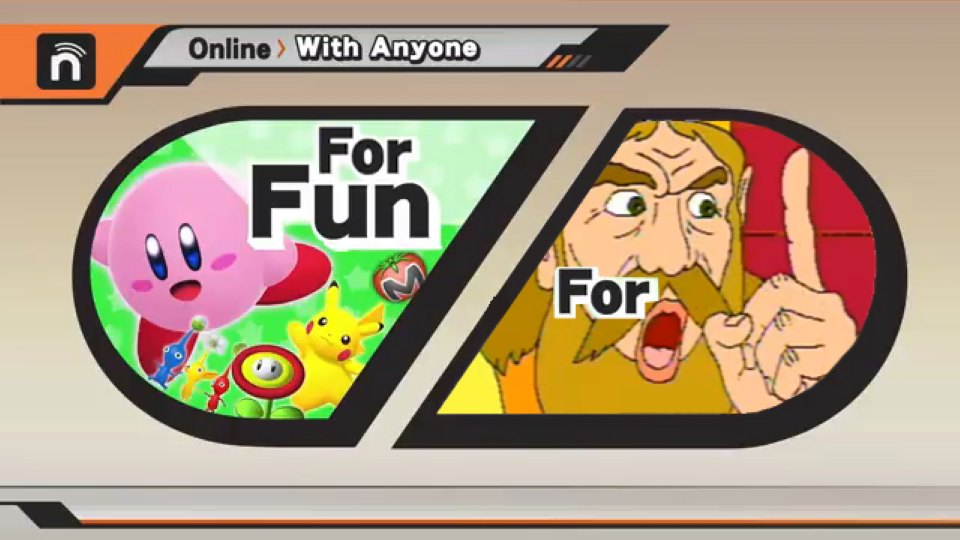 (Via cement-shackles)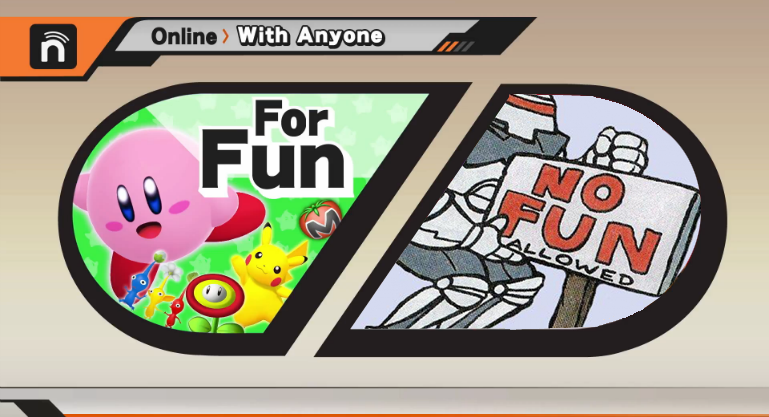 (MBArceus)
And despite all the reveals, people were still left asking where the most important characters were:
wheres goku

— UTENA HOT CLIP (@meekstape) April 8, 2014
Some folks, like mistasnowman, still have hope, though. Here's a ridiculous theory about how the weirdly placed trophy reveals are actually hinting at something more: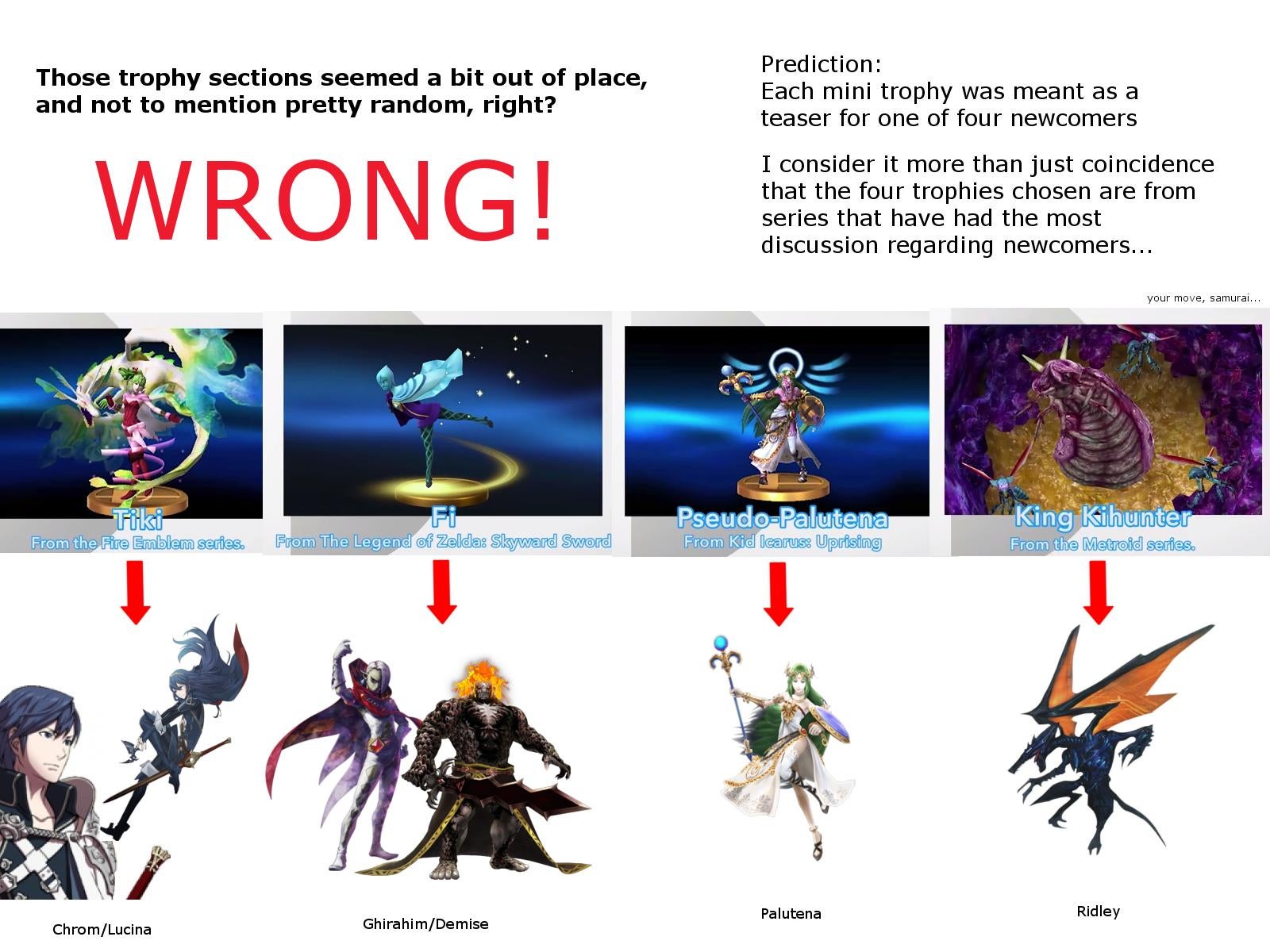 What about you, how did you react to yesterday's reveals?
To contact the author of this post, write to patricia@kotaku.com or find her on Twitter @patriciaxh.