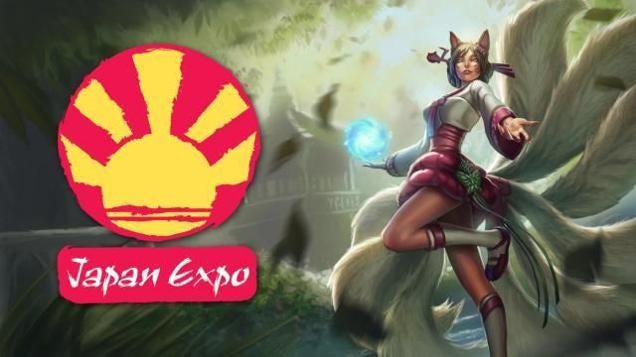 Anime, gaming and cosplay event Japan Expo is underway in Paris. And since Riot Games is in attendance, the studio created a notice on the League of Legends website. The image accompanying the announcement has some Korean gamers up in arms.
Over on the League of Legends forum, member Twking pointed out that the character Ahri wears a traditional Korean costume called the hanbok and debuted with the game's server launched in South Korea. Thus, the character has a strong connection with Korea. What's the rub? The Japan Expo's logo is reminiscent of the Rising Sun, imagery that is seen as offensive in South Korea.
"Rising Sun was an official flag of Japan Empire during WW2, and there were a lot of Massacre, Human subject research, sexual slavery, and so forth [SIC]," wrote Twking. "Some other Koreans already talked with Riot France, but they did not react at all."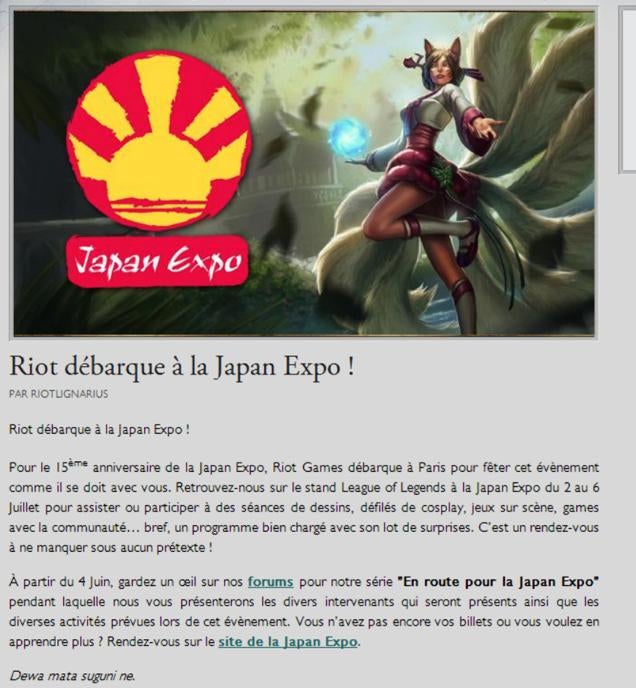 On Reddit (via tipster Sang), user Wnsghks5193 wrote, "Using the champion that represents Korea and the flag that represents Japanese imperialism in order to advertise anything will be very offensive to most of the Asian countries and especially to Korea."
Above is a screenshot of the how Ahri appeared on the League of Legends site (courtesy of Wnsghks5193).
Riot did change the webpage's character to another character: Japanese-influenced champion Yasuo.
This isn't just about getting upset about a Korean character appearing with rising sun imagery in the established Japan Expo logo, but also, the use of an obviously Korean influenced character for an event called "Japan Expo." Why give characters culturally infused identities if those aren't respected?
France Riot used Asian Hakenkreuz (Rising Sun) with Ahri. [League of Legends]
French League of Legends is Advertising Japanese Expo Using Japanese Rising Sun Flag and Ahri [Reddit — Thanks Sang!]