According to Pokémon news website Serebii, earlier today the official Korean Pokémon website uploaded pictures of two surprising mega Pokémon: Mega Slowbro, and Mega Audino (pictured above). While the images are no longer on the Korean website, the internet was quick to save the pictures — and have taken to social media to poke fun at mega Slowbrow.

First, some specifics about this 'mon.
"Energy was focused in the Shellder biting Slowbro's tail, and the result was that the hardness of the shell increased and it became an immensely hard suit of armour that can be damaged by no one," Serebii says. Accordingly, mega Slowbro has high defence and special defence. "When the battle begins Mega Slowbro uses its tail to stand up straight and it propels itself like a spring."
OK, now that we have that out of the way, let's talk about this Pokemon's design. This is normal Slowbro: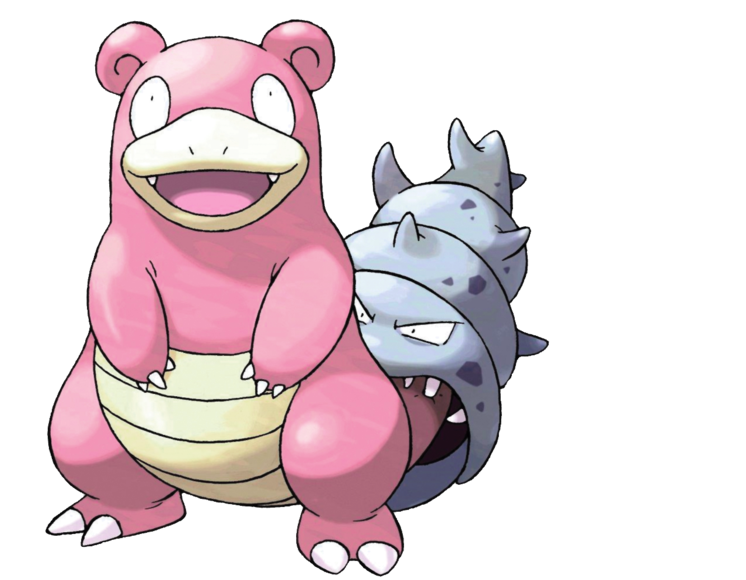 Look how happy it is. I mean, sure, there's a Shellder attached to its tail, but still, it's all good!
Now compare to mega Slowbro's face.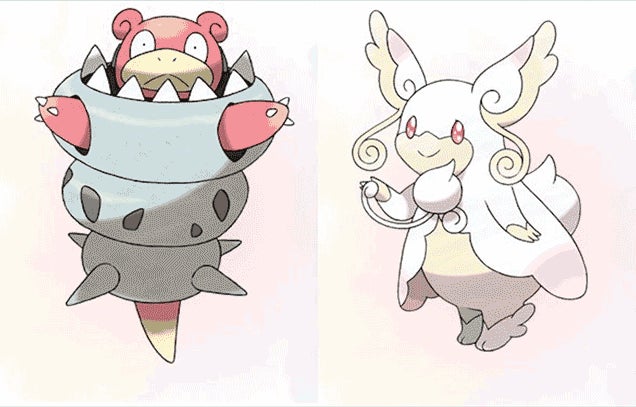 That's the face of regret. The face of panic. The face of sadness. Slowbro doesn't know what's happening or why it's happening to him. The Shellder is straight up overtaking its body, ack! It's incredible and kind of WTF. I think the internet feels similarly about it:

Can't wait to use Mega Slowbro at the 2015 Beyblade World Championships! pic.twitter.com/q1WMZnGACm

— Aaron Zheng (@CybertronVGC) August 12, 2014
….mega slowbro…..that's……ok

— JAKESEAL (@SealKonga) August 12, 2014
Slowbro is the magic conch shell. pic.twitter.com/1PNDOPj0jG

— ShellShocker™ ‏ (@SSBlastoise) August 12, 2014
Mega Slowbro, you tried

— ; neptuno (@JorgeFzSp) August 12, 2014
Mega Slowbro is an ice-cream pic.twitter.com/9LCCcIDJ2d

— PokéStuff (@StuffOfPoke) August 12, 2014
I think it is hilarious that Mega Slowbro's tail has decided "screw this symbiotic relationship. I'm taking over."

— John Ryan Abbott (@JohnRyanAbbott) August 12, 2014
I still can't believe mega slowbro is a thing

— Kristian (@JustVisiting03) August 12, 2014
Come at me, Slowbro! @TheFilmRenegado pic.twitter.com/exvjLo7rZh

— Andrew Dickman (@AWDtwit) August 12, 2014
mega slowbro… what the fuck man

— Chris Dame (@HeyThatsMyLeg) August 12, 2014
I was waiting for the "joke" Mega and I think Mega Slowbro has filled the role. I love it.

— Jimmy Whetzel (@NintendoFanFTW) August 12, 2014
mega slowbro is a stupid dork he's not even a bro anymore he's a waffle cone

— jane mai booboochild (@janemai_) August 12, 2014
My first reaction to Mega Slowbro? Not impressed. #Pokemon #MegaSlowbro #WhoIsResponsibleForThis pic.twitter.com/pNmOk71qSz

— The Black Squirrel (@Sorokaste) August 12, 2014
making slowbro into a burrito is the kind of innovation i want from a pokemon game.

— Jake Lawrence (@TheTimeCowboy) August 12, 2014
mega slowbro looks like a regular slowbro that made a mistake while evolving and now has to live with it forever

— A Fierce Bad Rabbit (@wiglytuf) August 12, 2014
OMG MEGA SLOWBRO IS BEING EATEN I AM SO SAD I HAVE NEVER BEEN SO SAD AND ANGRY AT SHELLDERS

— дзіця (@honky_dory) August 12, 2014
Slowbro just looks confused by this whole thing

— Heather Quinnell (@AwfulHorse) August 12, 2014
mega slowbro is like "help"

— pololo-kun (@osteosis) August 12, 2014
Mega Slowbro's the stupidest thing I've ever seen I want one

— Doba DeVader (@thedobaga) August 12, 2014
MEGA SLOWBRO IS HILARIOUS I'M HOWLING

— cheesecake (@killuass_) August 12, 2014