Twitch has made some changes today. Some were pretty boring. Another, however, has a lot of people very upset.

The streaming giant has implemented audio monitoring tools similar to those used by YouTube, aimed at identifying the use of copyrighted music in archived copies of user's videos. The software will scan 30-minute sections of videos; if any unauthorised music use is detected within that block, the entire 30 minutes will be muted, even if music was only playing for ten seconds (the video itself will remain).

There's one very important caveat, though: this only applies to video-on-demand content, not live broadcasts.
Still, people are not happy, with either the move itself or the heavy-handed way it silences content. Seems that in addition to looking for music that's been overlaid, the software is also flagging the ambient and background music of the games people are actually playing.
Twitch just announced a policy change to maximum video retention of two weeks. They've got Youtube export — go get your stuff off of there!

— Jim Crawford (@mogwai_poet) August 6, 2014
Good news, everyone! We don't have to dread YouTube purchasing Twitch! All the worst parts are already here!

— Chris Hanel (@ChrisHanel) August 6, 2014
Basically why Twitch being bought by Google is horrible. http://t.co/dTPIimddKK

— Rhéa (@ashelia) August 6, 2014
Here's an example of Twitch's Content ID system in action. Streamer listening to music while playing DOTA. http://t.co/8vWFSSoCa9

— Patrick Klepek (@patrickklepek) August 6, 2014
To be clear, rationale for Twitch VOD is… hearing a song during a stream is a lost sale? Is that seriously what media corporations believe?

— JP LeBreton (@vectorpoem) August 6, 2014
This guy is playing Fallout 3 with the in-game music. It's been flagged and muted. Good job Twitch. http://t.co/OZqRZNUQEq

— Lik Chan (@LikChan) August 6, 2014
Even major games are reeling; League of Legends' Twitter account has spent much of the afternoon sourcing alternate sources of music for users.
Do you make music you'd like to let Streamers use? Let us know using @leagueoflegends and we'll help you spread the word.

— League of Legends (@LeagueOfLegends) August 6, 2014
The monitoring has already kicked in. And, hilariously, has already silenced archived copies of Twitch's own programs.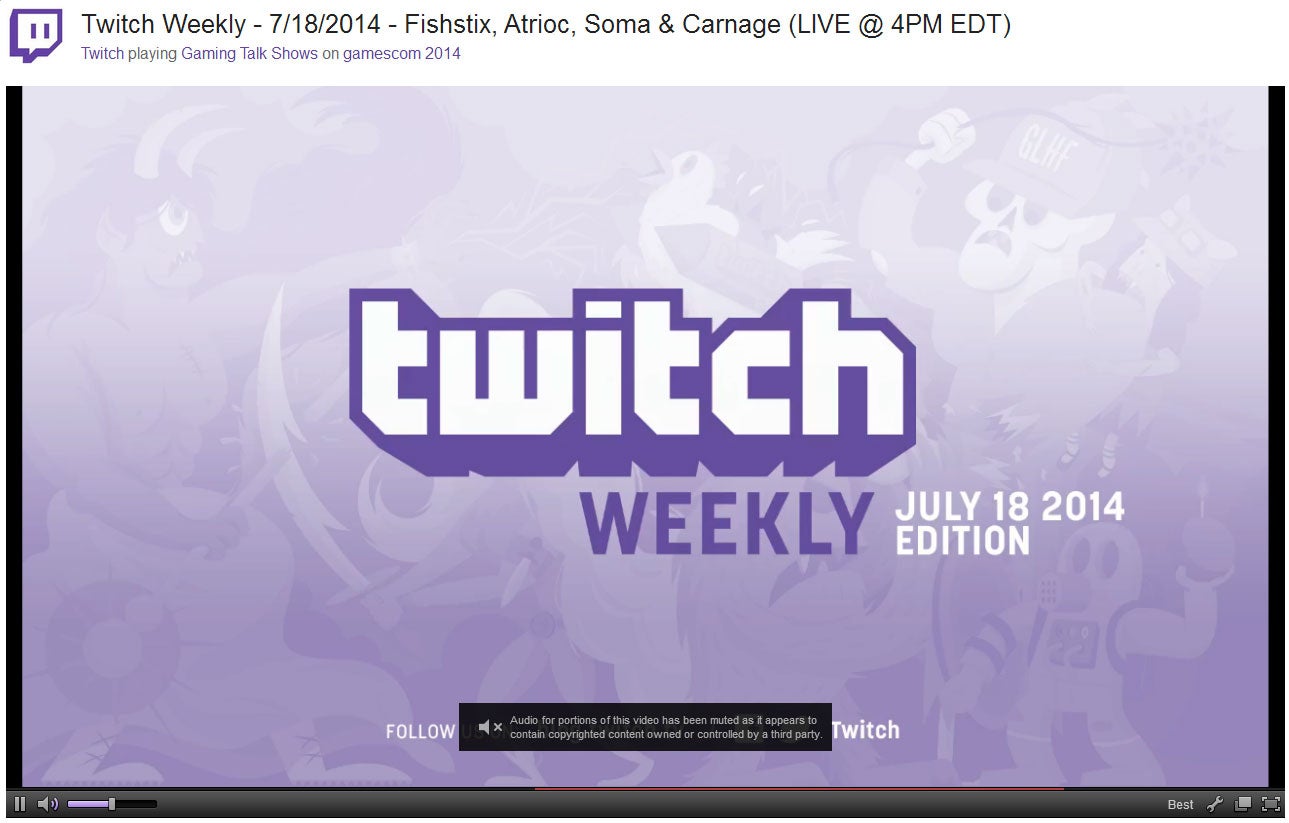 If you think you'll be affected, you can read the fine print of the announcement over on Twitch.