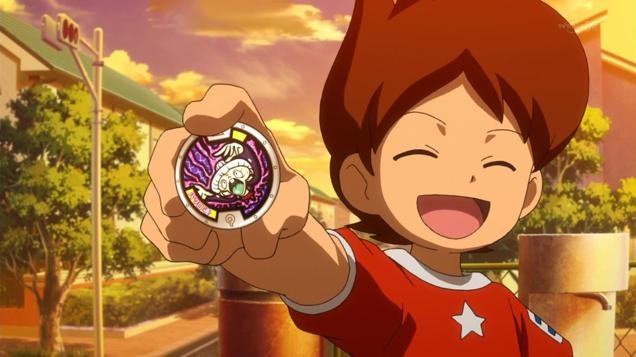 Right now, Yokai Watch is incredibly popular in Japan. The 3DS games, the kiddy arcade games, the toys, and the anime are all smash hits. And one network news channel recently reported about a Yokai Watch shoplifting incident.
Look, shoplifting is wrong. Don't do it. But TBS News, a major Japanese television broadcaster, recently ran a story about Yokai Watch medals, which are sold for several dollars, being allegedly stolen by some lady at an Osaka store. The toys that were taken don't seem that hard to purchase, unlike the watches.
The angle was that the Osaka shop, inspired by a Tokyo retailer's threats of internet shame, decided to put a photo of the alleged thief online with her face covered up. The reason wasn't simply that the store was out a few bucks because of this crime, but that it loses about US$5,000 a year due to shoplifting.
It sounds like the store's manager was fed up, which is why the alleged thief's blurred image was posted. While Yokai Watch was the hook, the report really seems to be about how shoplifting can hurt small retailers.
The shop has since taken the photo down, it seems, as it cooperates with the police to find the suspect.
大阪では「妖怪ウォッチ」"万引き犯"を・・・ [TBS [email protected] via はちま]
Picture: Mein.tv