This week Dick Smith has slashed $100 off the Samsung Gear Fit — now just $149. Perfect if you've still not picked up a Father's Day gift for this weekend. Looking for an amazing new TV? You can also save thousands of dollars on Samsung's latest curved screen Smart TVs. There's lots to like in this week's list.
[clear]
---
Lots of deals and models available, browse through for full details. Examples: At just $999, you save $400 on the 15.6-inch Asus S551LN-CJ202H W8 laptop with 8GB of memory, Intel Core i7 processor and 1TB hard disk. Nexus tablets also discounted. Deals end 7/9/14.
[clear]
---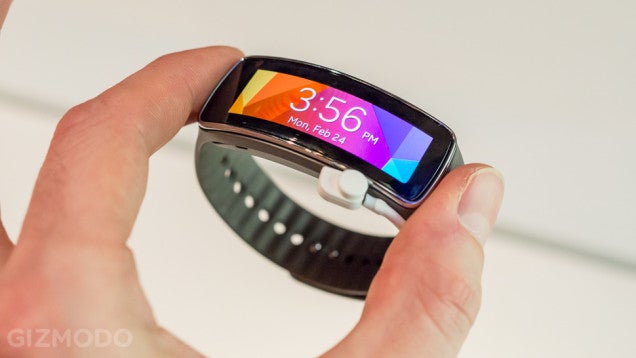 Still Samsung's sleekest fitness-tracking device, the Gear Fit has a brilliant curved touchscreen so the devic ecan double as a smartwatch. With a compatible Samsung Galaxy smartphone, Samsung Gear Fit equips you with instant notification of emails, texts, incoming calls and apps to keep you connected. Free delivery.
[clear]
---
What makes the Echo Smart sport watch so smart? It's the first in Australia to display real-time data from the fitness apps on newer iPhones or Android smartphones running Android KitKat 4.4. Record and view distance, pace, calories, heart rate, steps, elevations or any stat that your sport app can capture. Check specs for full compatibility. Just $99. Deal ends 7/9/2014.
[clear]
---
From the Apps panel, you can always find something good on a Samsung Smart TV. Choose from favourite social networking services; catch-up TV from iview, SBS On Demand and PLUS 7; sport from NBL.tv and Livesports.tv; video on-demand from Quickflix, Ezyflix and Foxtel Play; games for the whole family, and a web browser to stay connected to favourite sites.
Samsung's amazing curved LED TV gives you a superb level of viewing. The gentle arc of the LED screen is designed to help provide an incredibly immersive experience, so you can enjoy Full HD picture technology.
[clear]
---
Samsung's new 2014 TVs also feature S Recommendation — customised viewing options from free-to-air TV channels, apps and select video on-demand providers based on your viewing preferences. The more you watch, the smarter S Recommendation can become at finding great content for you to enjoy.
---