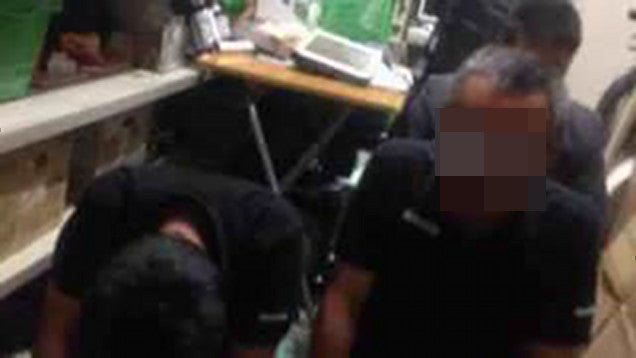 Two thugs in Japan's Osaka area have learned that not paying for your light cigarettes is a heavy crime, and that crime doesn't pay, especially if you upload your footage of you committing the crime onto YouTube.
Osaka Prefectural police arrested Goh Nakamura, 39, and Fumiaki Nonaka, 46 for threatening staff at a convenience store located in Ibaraki, Osaka and thus extorting six cartons of cigarettes worth 26,700 yen ($250). They are questioning two of the lovely ladies that were also with them at the time of the crime. Nakamura is known to have associates with the local mob but is not a mobster himself.
The penalty for extortion in Japan is up to 10 years in jail.
According to the Osaka Ibaraki police, Nakamura and the other suspects had allegedly visited the store on and off since dawn on September 8, requesting that the staff put water into plastic bottles and taking videos of the manager with a smart phone. When the manager protested, Nakamura said, "You touched my cell phone with your dirty hands," and struck the manager.
Both suspects recorded video that they later posted on YouTube of themselves and several other people arguing with the manager of the convenience store and then making the entire staff perform dogeza (土下座). Dogeza is the rarely performed act of prostrating oneself on the ground in order to apologise for a serious misdeed and to beg for forgiveness in Japan.
The owners of the convenience store visited the Ibaraki police in Osaka on the 8th and submitted a damage report the next day. Meanwhile, one of the unrepentant thugs posted a video of their escapades for the world to see. Within hours the video went viral and good samaritan detectives on 2ch, Japan's most used internet bulletin board, and other websites, tracked down the extortionists in an impressive collective web sleuthing effort. The jig was up.
Eventually, one of the thugs, hoping to get a lighter sentence — which is guaranteed if you turn yourself in before the cops have launched a full investigation — then turned himself in to the cops for extortion. They all face several years in jail for 6 cartons of cigarettes.
The Osaka police are still investigating the whereabouts of the other suspects shown in the video.
Not only were the hooligans responsible for this crime idiots, they have exceptionally poor taste in cigarettes. They are now facing several years in jail for making off with 3 cartons each of Lark and Marlboro Lights.
They should have picked Lucky Strike. It's the tobacco of choice for the fortunate criminal.
---
Angela Erika Kubo is a Tokyo-based freelance writer who has worked with The Japan Times, The Diplomat, and is currently an assistant editor with the Japan Subculture Research Center. You can find her on Twitter @aekubo.