There's something strange about Christopher Nolan movies. It's difficult to shake, but near impossible to verbalise. Essentially, it's a lack of internal volition. In The Dark Knight, when Batman is speeding onto the highway in his Batmobile, your brain recognizes this is a 'cool moment that people will later describe to you as cool', but you're not really connected with that moment in any real visceral sense. In Nolan movies action (and drama) is often held at a distance.
Inception was a real low point. It was — and I recognize I'm in the minority here – a movie without heart or dramatic momentum. A glorious high concept strangled beneath the weight of its own exposition. It is without doubt, the dullest, least imaginative movie ever made about dreams. A movie where you never really feel the weight of consequence or the glorious weirdness of dreams. In Inception everything of importance is held at an icy distance.
I bring these things up – that disconnect, Nolan's penchant for squandering grand high concepts – because these are the ideas that framed my expectations for Interstellar: another movie with a grand high concept, another movie about big ideas that would ultimately flounder. I walked into the theatre expecting – again – these high concepts would be squandered.
I left the theatre believing that Interstellar was Nolan's best movie yet.
---
[clear] Set in a near future where earth is dying and space travel is humanity's last chance for survival, Interstellar is a piece of science-fiction grounded by – first – a commitment to its own high concept and – second – a commitment to the minute details of its own internal universe.
It's also a movie about family and what it means to be separated from the ones you love. It's also about time. And about survival; about what it takes to survive and the lengths we will go to in order to preserve ourselves and our species.
Interstellar is a movie about a lot of things. It is a movie about big ideas.
Interstellar is a movie, like Inception, comprised of entire scenes dedicated to explaining things and/or stuff. This is a very Nolan-esque thing to do and it normally serves to destroy drama. Somehow, in Interstellar, it has the opposite effect. Instead of being bogged down by the internal mechanics of its own fiction, Interstellar's exposition provides the gravitas required for some of its grander set-piece to have genuinely earth-shattering impacts. The science in Interstellar's science fiction drives the drama; it raises the stakes expertly.
There are moments in Interstellar that will blow your mind. There are moments that will make every muscle in your body vibrate in terror.
There are moments when you will implicitly feel the weight of the decisions characters have made.
And it's all underpinned by a simple, entirely believable story about family. Interstellar is perhaps the first Nolan movie with heart at its core. Its first act, set on earth, introduces us to a family unlike any Nolan has portrayed on-screen: a believable, an accessible family. A Spielbergian family, burdened and fragile, brought together by a shared struggle. And when Nolan separates that family, the stress is tangible. It is real. You are not watching them from a distance, you are invested.
Which is a good thing, because the entire movie hinges on that investment. Interstellar is able to propel itself, literally, into the farthest reaches of space and keep us involved precisely because the story remains tethered to earth, to home, to the people we love. It's a great trick and — for the first time perhaps — Nolan pulls it off masterfully.
---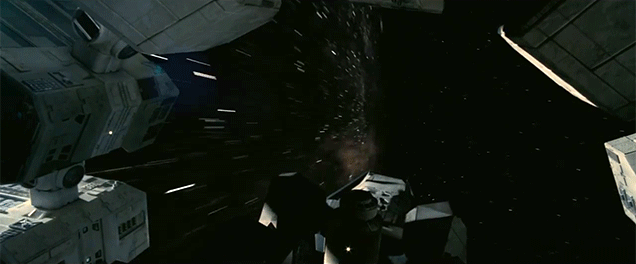 Interstellar bears the hallmarks of the best science-fiction: a well realised universe, a healthy believe in its own fiction and — perhaps best of all — a pure imagination. Interstellar is home to a fair few clankers in its dialogue, and at least one flat performance, but it's difficult to not get swept away in the incredible world/s being created. Interstellar manages to actually inspire sense of wonder I expected to feel in Inception's dreamscapes, but didn't. That might be the grandest compliment I can pay it.
No. The grandest compliment I can pay Interstellar is this: it's a movie that stretches the fabric of its medium, transports us to strange new places, to strange new worlds — but still somehow manages to make us care about a well-crafted inherently human story.
You should go and see Interstellar.