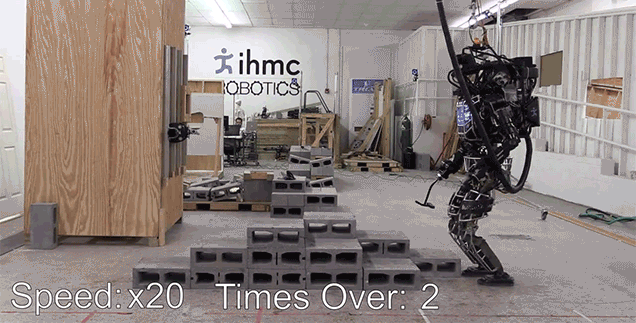 You might remember Atlas, the Pentagon funded robot that could stand on one foot whilst getting hit by a goddamn wrecking ball. Well, turns out that was just the beginning. Now this thing can (gasp) walk up stairs. When the robot revolution finally comes, there will be nowhere to hide.
By being able to walk up stairs effectively, Atlas is hardly Robocop, but he at least manages to beat out ED-209, who totally couldn't handle stairs for shit.
Obviously these robots are in the absolute early stages of development, but if history has taught us anything its that these things tend to iterated terrifyingly quickly. It wouldn't surprise me if this thing was chasing us down streets lobbing cinder blocks at us in say... 20 years tops.
Via Gizmodo