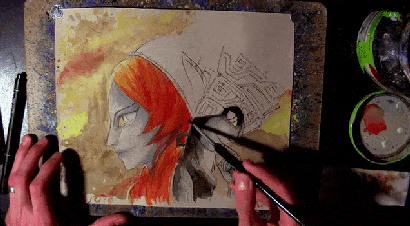 One of The Legend of Zelda's most enigmatic figures, the impish Midna has captured the imaginations of countless artists in the early eight years since its release. Watch as watercolour artist Adam Scythe gives us his interpretation.
A good piece of art is a wonderful thing, but being privy to the process adds so much depth to the final work. In the time-lapse video below (via Reddit) we get to see Adam's vision of Midna from pencil sketch to finished double-portrait. I particularly love the way his brush dances across the swirling shadow of her headpiece.
According to the YouTube video description, the original work here is for sale, but I'm guessing it will get snagged incredibly fast, if it hasn't already. You can check out more of Adam's work at his official website.